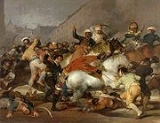 Peninsular War
The
Peninsular War
was a war between
France
First French Empire
The First French Empire , also known as the Greater French Empire or Napoleonic Empire, was the empire of Napoleon I of France...
and the allied powers of
Spain
Spanish Empire
The Spanish Empire comprised territories and colonies administered directly by Spain in Europe, in America, Africa, Asia and Oceania. It originated during the Age of Exploration and was therefore one of the first global empires. At the time of Habsburgs, Spain reached the peak of its world power....
, the
United Kingdom
United Kingdom of Great Britain and Ireland
The United Kingdom of Great Britain and Ireland was the formal name of the United Kingdom during the period when what is now the Republic of Ireland formed a part of it....
, and
Portugal
Kingdom of Portugal
The Kingdom of Portugal was Portugal's general designation under the monarchy. The kingdom was located in the west of the Iberian Peninsula, Europe and existed from 1139 to 1910...
for control of the
Iberian Peninsula
Iberian Peninsula
The Iberian Peninsula , sometimes called Iberia, is located in the extreme southwest of Europe and includes the modern-day sovereign states of Spain, Portugal and Andorra, as well as the British Overseas Territory of Gibraltar...
during the
Napoleonic Wars
Napoleonic Wars
The Napoleonic Wars were a series of wars declared against Napoleon's French Empire by opposing coalitions that ran from 1803 to 1815. As a continuation of the wars sparked by the French Revolution of 1789, they revolutionised European armies and played out on an unprecedented scale, mainly due to...
. The war began when French and Spanish armies crossed Spain and invaded Portugal in 1807. Then, in 1808, France turned on its ally, Spain. The war lasted until the
Sixth Coalition
War of the Sixth Coalition
In the War of the Sixth Coalition , a coalition of Austria, Prussia, Russia, the United Kingdom, Portugal, Sweden, Spain and a number of German States finally defeated France and drove Napoleon Bonaparte into exile on Elba. After Napoleon's disastrous invasion of Russia, the continental powers...
defeated Napoleon in 1814.
The conflict is regarded by some historians as one of the first
national wars
Total war
Total war is a war in which a belligerent engages in the complete mobilization of fully available resources and population.In the mid-19th century, "total war" was identified by scholars as a separate class of warfare...
and is also significant for the emergence of large-scale
guerrilla warfare
Guerrilla warfare
Guerrilla warfare is a form of irregular warfare and refers to conflicts in which a small group of combatants including, but not limited to, armed civilians use military tactics, such as ambushes, sabotage, raids, the element of surprise, and extraordinary mobility to harass a larger and...
(guerrilla means "little war" in Spanish).