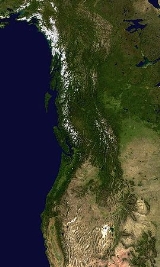 Pacific Northwest
The
Pacific Northwest
is a region in northwestern
North America
North America
North America is a continent wholly within the Northern Hemisphere and almost wholly within the Western Hemisphere. It is also considered a northern subcontinent of the Americas...
, bounded by the
Pacific Ocean
Pacific Ocean
The Pacific Ocean is the largest of the Earth's oceanic divisions. It extends from the Arctic in the north to the Southern Ocean in the south, bounded by Asia and Australia in the west, and the Americas in the east.At 165.2 million square kilometres in area, this largest division of the World...
to the west and, loosely, by the
Rocky Mountains
Rocky Mountains
The Rocky Mountains are a major mountain range in western North America. The Rocky Mountains stretch more than from the northernmost part of British Columbia, in western Canada, to New Mexico, in the southwestern United States...
on the east. Definitions of the region vary and there is no commonly agreed upon boundary, even among Pacific Northwesterners. A common concept of the Pacific Northwest includes the
U.S. state
U.S. state
A U.S. state is any one of the 50 federated states of the United States of America that share sovereignty with the federal government. Because of this shared sovereignty, an American is a citizen both of the federal entity and of his or her state of domicile. Four states use the official title of...
s of
Oregon
Oregon
Oregon is a state in the Pacific Northwest region of the United States. It is located on the Pacific coast, with Washington to the north, California to the south, Nevada on the southeast and Idaho to the east. The Columbia and Snake rivers delineate much of Oregon's northern and eastern...
, Washington and
Idaho
Idaho
Idaho is a state in the Rocky Mountain area of the United States. The state's largest city and capital is Boise. Residents are called "Idahoans". Idaho was admitted to the Union on July 3, 1890, as the 43rd state....
, as well as the
Canadian province
Provinces and territories of Canada
The provinces and territories of Canada combine to make up the world's second-largest country by area. There are ten provinces and three territories...
of
British Columbia
British Columbia
British Columbia is the westernmost of Canada's provinces and is known for its natural beauty, as reflected in its Latin motto, Splendor sine occasu . Its name was chosen by Queen Victoria in 1858...
and territory of the
Yukon
Yukon
Yukon is the westernmost and smallest of Canada's three federal territories. It was named after the Yukon River. The word Yukon means "Great River" in Gwich'in....
. This definition is often restricted further to include only the coastal areas west of the crest of the Cascade Mountains and Canadian Coast Mountains.