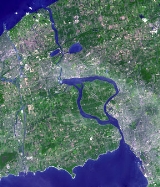 Niagara River
The
Niagara River
flows north from
Lake Erie
Lake Erie
Lake Erie is the fourth largest lake of the five Great Lakes in North America, and the tenth largest globally. It is the southernmost, shallowest, and smallest by volume of the Great Lakes and therefore also has the shortest average water residence time. It is bounded on the north by the...
to
Lake Ontario
Lake Ontario
Lake Ontario is one of the five Great Lakes of North America. It is bounded on the north and southwest by the Canadian province of Ontario, and on the south by the American state of New York. Ontario, Canada's most populous province, was named for the lake. In the Wyandot language, ontarío means...
. It forms part of the border between the Province of
Ontario
Ontario
Ontario is a province of Canada, located in east-central Canada. It is Canada's most populous province and second largest in total area. It is home to the nation's most populous city, Toronto, and the nation's capital, Ottawa....
in
Canada
Canada
Canada is a North American country consisting of ten provinces and three territories. Located in the northern part of the continent, it extends from the Atlantic Ocean in the east to the Pacific Ocean in the west, and northward into the Arctic Ocean...
and
New York
New York
New York is a state in the Northeastern region of the United States. It is the nation's third most populous state. New York is bordered by New Jersey and Pennsylvania to the south, and by Connecticut, Massachusetts and Vermont to the east...
State in the
United States
United States
The United States of America is a federal constitutional republic comprising fifty states and a federal district...
. There are differing theories as to the origin of the name of the river. According to Iroquoian scholar
Bruce Trigger
Bruce Trigger
Bruce Graham Trigger, was a Canadian archaeologist, anthropologist, and ethnohistorian.Born in Preston, Ontario, he received a doctorate in archaeology from Yale University in 1964. His research interests at that time included the history of archaeological research and the comparative study of...
, "Niagara" is derived from the name given to a branch of the locally residing native
Neutral Confederacy
Neutral Nation
The Neutrals, also known as the Attawandaron, were an Iroquoian nation of North American native people who lived near the shores of Lake Ontario and Lake Erie.-Territory:...
, who are described as being called the "Niagagarega" people on several late 17th century French maps of the area.