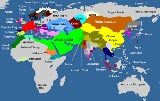 Muslim history
Muslim history
is the history of
Muslim
Muslim
A Muslim, also spelled Moslem, is an adherent of Islam, a monotheistic, Abrahamic religion based on the Quran, which Muslims consider the verbatim word of God as revealed to prophet Muhammad. "Muslim" is the Arabic term for "submitter" .Muslims believe that God is one and incomparable...
people. In the
history of Islam
the followers of the religion of Islam have impacted
political history
Political history
Political history is the narrative and analysis of political events, ideas, movements, and leaders. It is distinct from, but related to, other fields of history such as Diplomatic history, social history, economic history, and military history, as well as constitutional history and public...
,
economic history
Economic history
Economic history is the study of economies or economic phenomena in the past. Analysis in economic history is undertaken using a combination of historical methods, statistical methods and by applying economic theory to historical situations and institutions...
, and
military history
Military history
Military history is a humanities discipline within the scope of general historical recording of armed conflict in the history of humanity, and its impact on the societies, their cultures, economies and changing intra and international relationships....
. The concept of the Islamic world is useful in observing the different periods of
Islamic history
; similarly useful is an understanding of the identification with a quasi-political community of believers, or
ummah
Ummah
Ummah is an Arabic word meaning "community" or "nation." It is commonly used to mean either the collective nation of states, or the whole Arab world...
. The Islamic cultural identity, or identity as a member of the ummah, has influenced the history of the world.