 Multicellular organism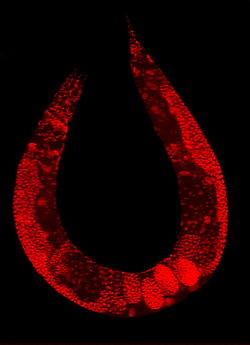 Multicellular organisms
are
organism
Organism
In biology, an organism is any contiguous living system . In at least some form, all organisms are capable of response to stimuli, reproduction, growth and development, and maintenance of homoeostasis as a stable whole.An organism may either be unicellular or, as in the case of humans, comprise...
s that consist of more than one
cell
Cell (biology)
The cell is the basic structural and functional unit of all known living organisms. It is the smallest unit of life that is classified as a living thing, and is often called the building block of life. The Alberts text discusses how the "cellular building blocks" move to shape developing embryos....
, in contrast to single-celled organisms. Most life that can be seen with the the naked eye is multicellular, as are all
animal
Animal
Animals are a major group of multicellular, eukaryotic organisms of the kingdom Animalia or Metazoa. Their body plan eventually becomes fixed as they develop, although some undergo a process of metamorphosis later on in their life. Most animals are motile, meaning they can move spontaneously and...
s (except for specialized organisms such as
Myxozoa
Myxozoa
The Myxozoa are a group of parasitic animals of aquatic environments. Over 1300 species have been described and many have a two-host lifecycle, involving a fish and an annelid worm or bryozoan. The average size of a Myxosporea spore usually ranges from 10 μm to 20 μm and Malacosporea up...
) and
land plants
Embryophyte
The land plants or embryophytes, more formally Embryophyta or Metaphyta, are the most familiar group of plants. They are called 'land plants' because they live primarily in terrestrial habitats, in contrast with the related green algae that are primarily aquatic. The embryophytes include trees,...
.
Evolutionary history
Multicellularity has evolved independently dozens of times in the history of Earth, for example in plants and
animal
Animal
Animals are a major group of multicellular, eukaryotic organisms of the kingdom Animalia or Metazoa. Their body plan eventually becomes fixed as they develop, although some undergo a process of metamorphosis later on in their life. Most animals are motile, meaning they can move spontaneously and...
s.
Multicellularity exists in both
prokaryote
Prokaryote
The prokaryotes are a group of organisms that lack a cell nucleus , or any other membrane-bound organelles. The organisms that have a cell nucleus are called eukaryotes. Most prokaryotes are unicellular, but a few such as myxobacteria have multicellular stages in their life cycles...
s and
eukaryote
Eukaryote
A eukaryote is an organism whose cells contain complex structures enclosed within membranes. Eukaryotes may more formally be referred to as the taxon Eukarya or Eukaryota. The defining membrane-bound structure that sets eukaryotic cells apart from prokaryotic cells is the nucleus, or nuclear...
s, and first appeared several billion years ago in
cyanobacteria
.
In order to reproduce, true multicellular organisms must solve the problem of regenerating a whole organism from
germ cell
Germ cell
A germ cell is any biological cell that gives rise to the gametes of an organism that reproduces sexually. In many animals, the germ cells originate near the gut of an embryo and migrate to the developing gonads. There, they undergo cell division of two types, mitosis and meiosis, followed by...
s (i.e.
sperm
Sperm
The term sperm is derived from the Greek word sperma and refers to the male reproductive cells. In the types of sexual reproduction known as anisogamy and oogamy, there is a marked difference in the size of the gametes with the smaller one being termed the "male" or sperm cell...
and
egg
Ovum
An ovum is a haploid female reproductive cell or gamete. Both animals and embryophytes have ova. The term ovule is used for the young ovum of an animal, as well as the plant structure that carries the female gametophyte and egg cell and develops into a seed after fertilization...
cells), an issue that is studied in
developmental biology
Developmental biology
Developmental biology is the study of the process by which organisms grow and develop. Modern developmental biology studies the genetic control of cell growth, differentiation and "morphogenesis", which is the process that gives rise to tissues, organs and anatomy.- Related fields of study...
. Therefore, the development of
sexual reproduction
Sexual reproduction
Sexual reproduction is the creation of a new organism by combining the genetic material of two organisms. There are two main processes during sexual reproduction; they are: meiosis, involving the halving of the number of chromosomes; and fertilization, involving the fusion of two gametes and the...
in unicellular organisms during the
Mesoproterozoic
Mesoproterozoic
The Mesoproterozoic Era is a geologic era that occurred between 1600 Ma and 1000 Ma . The Mesoproterozoic was the first period of Earth's history with a respectable geological record. Continents existed in the Paleoproterozoic, but we know little about them...
is thought to have precipitated the development and rise of multicellular life.
Multicellular organisms, especially long-living animals, also face the challenge of
cancer
Cancer
Cancer , known medically as a malignant neoplasm, is a large group of different diseases, all involving unregulated cell growth. In cancer, cells divide and grow uncontrollably, forming malignant tumors, and invade nearby parts of the body. The cancer may also spread to more distant parts of the...
, which occurs when cells fail to regulate their growth within the normal program of development. Changes in tissue morphology can be observed during this process.
Hypotheses for origin
There are various mechanisms by which multicellularity could have evolved.
One hypothesis is that a group of function-specific cells aggregated into a slug-like mass called a
grex
Grex (biology)
A grex is a multicellular aggregate of amoeba of the groups Acrasiomycota or Dictyosteliida that can be formed when the amoeba run out of food. It takes its form when the column formed from the aggregation of cells collapses due to its height, and becomes a slug-shaped mass...
, which moved as a multicellular unit. This is essentially what slime molds do. Another hypothesis is that a primitive cell underwent nucleus division, thereby becoming a
syncytium
Syncytium
In biology, a syncytium is a large cell-like structure; filled with cytoplasm and containing many nuclei. Most cells in eukaryotic organisms have a single nucleus; syncytia are specialized forms used by various organisms.The term may also refer to cells that are connected by specialized membrane...
. A membrane would then form around each nucleus (and the cellular space and organelles occupied in the space), thereby resulting in a group of connected cells in one organism (this mechanism is observable in
Drosophila
Drosophila
Drosophila is a genus of small flies, belonging to the family Drosophilidae, whose members are often called "fruit flies" or more appropriately pomace flies, vinegar flies, or wine flies, a reference to the characteristic of many species to linger around overripe or rotting fruit...
). A third hypothesis is that, as a unicellular organism divided, the daughter cells failed to separate, resulting in a conglomeration of identical cells in one organism, which could later develop specialized tissues. This is what animal and plant embryos do and also what colonial
choanoflagellate
Choanoflagellate
The choanoflagellates are a group of free-living unicellular and colonial flagellate eukaryotes considered to be the closest living relatives of the animals...
s apparently do.
Because the first multicellular organisms were simple, soft organisms lacking bone, shell or other hard body parts, they are not well preserved in the fossil record. One exception may be the
demosponge
Demosponge
The Demospongiae are the largest class in the phylum Porifera. Their "skeletons" are made of spicules consisting of fibers of the protein spongin, the mineral silica, or both. Where spicules of silica are present, they have a different shape from those in the otherwise similar glass sponges...
, which may have left a chemical signature in ancient rocks. The earliest fossils of multicellular organisms include the contested
Grypania
Grypania
Grypania is an early, tube-shaped fossil from the Proterozoic Eon. The organism could have been a giant bacterium or bacterial colony, but because of its size and consistent form, is more likely to have been a eukaryotic alga. The oldest probable Grypania fossils date to about 2.1 billion years...
spiralis and the fossils of the black shales of the Palaeoproterozoic
Francevillian Group Fossil
Francevillian Group Fossil
The Francevillian Group Fossil is an early, macroscopic organism. They were centimeter-sized highly organized, spatially discrete colonial organisms. Their fossils are found in the west-African country of Gabon in the Palaeoproterozoic Francevillian B Formation, a 2.1-Gyr-old black shale...
B Formation in
Gabon
Gabon
Gabon , officially the Gabonese Republic is a state in west central Africa sharing borders with Equatorial Guinea to the northwest, Cameroon to the north, and with the Republic of the Congo curving around the east and south. The Gulf of Guinea, an arm of the Atlantic Ocean is to the west...
.
Until recently phylogenetic reconstruction has been through anatomical (particularly embryological) similarities. This is inexact, as living multicellular organisms such as
animal
Animal
Animals are a major group of multicellular, eukaryotic organisms of the kingdom Animalia or Metazoa. Their body plan eventually becomes fixed as they develop, although some undergo a process of metamorphosis later on in their life. Most animals are motile, meaning they can move spontaneously and...
s and
plant
Plant
Plants are living organisms belonging to the kingdom Plantae. Precise definitions of the kingdom vary, but as the term is used here, plants include familiar organisms such as trees, flowers, herbs, bushes, grasses, vines, ferns, mosses, and green algae. The group is also called green plants or...
s are more than 500 million years removed from their single-celled ancestors. Such a passage of time allows both
divergent
Divergent evolution
Divergent evolution is the accumulation of differences between groups which can lead to the formation of new species, usually a result of diffusion of the same species to different and isolated environments which blocks the gene flow among the distinct populations allowing differentiated fixation...
and
convergent
Convergent evolution
Convergent evolution describes the acquisition of the same biological trait in unrelated lineages.The wing is a classic example of convergent evolution in action. Although their last common ancestor did not have wings, both birds and bats do, and are capable of powered flight. The wings are...
evolution time to mimic similarities and accumulate differences between groups of modern and extinct ancestral species. Modern phylogenetics uses sophisticated techniques such as alloenzymes,
satellite DNA
Satellite DNA
Satellite DNA consists of very large arrays of tandemly repeating, non-coding DNA. Satellite DNA is the main component of functional centromeres, and form the main structural constituent of heterochromatin....
and other molecular markers to describe traits that are shared between distantly related lineages.
The evolution of multicellularity could have occurred in three ways, and of which the latter, the colonial theory, is most credited by the scientific community:
The Symbiotic Theory
This theory suggests that the first multicellular organisms occurred from
symbiosis
Symbiosis
Symbiosis is close and often long-term interaction between different biological species. In 1877 Bennett used the word symbiosis to describe the mutualistic relationship in lichens...
(cooperation) of different species of single celled organisms, each with different roles. Over time these organisms would become so dependent on each other they would not be able to survive independently, eventually leading to their genomes being incorporated into one multicellular organism. Each respective organism would become a separate lineage of differentiated cells within the newly created species.
This kind of severely co-dependent symbiosis can be seen frequently, such as in the relationship between clown fish and
Riterri sea anemone
Heteractis magnifica
Heteractis magnifica, also known by the common names magnificent sea anemone or Ritteri anemone, is a species of sea anemone that lives in the Indo-Pacific area, and can grow up to 1 metre in diameter in the wild. It can be kept in aquaria but is considered one of the most challenging species...
s. In these cases it is extremely doubtful if either species would survive very long if the other became extinct. However, the problem with this theory is that it is still not known how each organism's DNA could be incorporated into one single
genome
Genome
In modern molecular biology and genetics, the genome is the entirety of an organism's hereditary information. It is encoded either in DNA or, for many types of virus, in RNA. The genome includes both the genes and the non-coding sequences of the DNA/RNA....
to constitute them as a single species. Although such symbiosis is theorized to have occurred (e.g. mitochondria and chloroplasts in animal and plant cells - endosymbiosis) it has only happened extremely rarely and, even then, the genomes of the endosymbionts have retained an element of distinction, separately replicating their DNA during
mitosis
Mitosis
Mitosis is the process by which a eukaryotic cell separates the chromosomes in its cell nucleus into two identical sets, in two separate nuclei. It is generally followed immediately by cytokinesis, which divides the nuclei, cytoplasm, organelles and cell membrane into two cells containing roughly...
of the host species. For instance, the two or three symbiotic organisms forming the composite
lichen
Lichen
Lichens are composite organisms consisting of a symbiotic organism composed of a fungus with a photosynthetic partner , usually either a green alga or cyanobacterium...
, while dependent on each other for survival, have to separately reproduce and then re-form to create one individual organism once more.
The Cellularization (Syncytial) Theory
This theory states that a single unicellular organism could have developed internal membrane partitions around each of its
nuclei
Cell nucleus
In cell biology, the nucleus is a membrane-enclosed organelle found in eukaryotic cells. It contains most of the cell's genetic material, organized as multiple long linear DNA molecules in complex with a large variety of proteins, such as histones, to form chromosomes. The genes within these...
Many protists such as the ciliates or slime moulds can have several nuclei, lending support to this
hypothesis
Hypothesis
A hypothesis is a proposed explanation for a phenomenon. The term derives from the Greek, ὑποτιθέναι – hypotithenai meaning "to put under" or "to suppose". For a hypothesis to be put forward as a scientific hypothesis, the scientific method requires that one can test it...
. However, simple presence of multiple nuclei is not enough to support the theory. Multiple nuclei of ciliates are dissimilar and have clear differentiated functions: the
macronucleus
Macronucleus
A macronucleus is the larger type of nucleus in ciliates. Macronuclei are polyploid and undergo direct division without mitosis. It controls the non-reproductive cell functions, the everyday tasks, such as metabolism...
serves the organism's needs while the
micronucleus
Micronucleus
A the micronucleus is the smaller nucleus in ciliate protozoans, such as the paramecium. In fission it divides by mitosis, and in conjugation furnishes the pairing of gamete nuclei, by whose reciprocal fusion a zygote nucleus is formed, which gives rise to the macronuclei and micronuclei of the...
is used for sexual-like reproduction with exchange of genetic material. Slime molds
syncitia
Syncytium
In biology, a syncytium is a large cell-like structure; filled with cytoplasm and containing many nuclei. Most cells in eukaryotic organisms have a single nucleus; syncytia are specialized forms used by various organisms.The term may also refer to cells that are connected by specialized membrane...
form from individual amoeboid cells, like syncitial tissues of some multicellular organisms, not the other way round. To be deemed valid, this theory needs a demonstrable example and mechanism of generation of a multicellular organism from a pre-existing syncytium.
The Colonial Theory
The third explanation of multicellularisation is the Colonial Theory proposed by Haeckel in 1874. This theory claims that the symbiosis of many organisms of the same species (unlike the symbiotic theory, which suggests the symbiosis of different species) led to a multicellular organism. At least some, presumably land-evolved, multicellularity occurs by cells separating and then rejoining (e.g.,
cellular slime molds
Slime mould
Slime mold or mould is a broad term describing protists that use spores to reproduce. Slime molds were formerly classified as fungi, but are no longer considered part of this kingdom....
) whereas for the majority of multicellular types (those that evolved within aquatic environments), multicellularity occurs as a consequence of cells failing to separate following division. The mechanism of this latter colony formation can be as simple as incomplete
cytokinesis
Cytokinesis
Cytokinesis is the process in which the cytoplasm of a single eukaryotic cell is divided to form two daughter cells. It usually initiates during the late stages of mitosis, and sometimes meiosis, splitting a binucleate cell in two, to ensure that chromosome number is maintained from one generation...
, though multicellularity is also typically considered to involve
cellular differentiation
Cellular differentiation
In developmental biology, cellular differentiation is the process by which a less specialized cell becomes a more specialized cell type. Differentiation occurs numerous times during the development of a multicellular organism as the organism changes from a simple zygote to a complex system of...
The advantage of the Colonial Theory hypothesis is that it has been seen to occur independently numerous times (in 16 different protoctistan phyla). For instance, during food shortages the amoeba
Dictyostelium
Dictyostelium
Dictyostelium are Dictyostelid single celled eukaryotic, phagotrophic bacterivores usually present and often abundant in terrestrial ecosystems and are a normal component of the microflora in cells that help in soil balance between bacteria and soils. The amoeba are often grouped as slime mold ....
groups together in a colony that moves as one to a new location. Some of these amoeba then slightly differentiate from each other. Other examples of colonial organisation in protista are
Volvocaceae
Volvocaceae
The Volvocaceae are a family of unicellular or colonial biflagellates, including the typical genus Volvox. The family was named by Ehrenberg in 1834, and is known in older classifications as the Volvocidae.- Description :...
, such as
Eudorina
Eudorina
In taxonomy, Eudorina is a genus of colonial green algae, specifically of the Volvocaceae. Eudorina colonies consist of 32 individual cells grouped together. Each individual cell contains flagella which allow the colony to move as a whole when the individual cells beat their flagella together...
and
Volvox
Volvox
Volvox is a genus of chlorophytes, a type of green algae. It forms spherical colonies of up to 50,000 cells. They live in a variety of freshwater habitats, and were first reported by Antonie van Leeuwenhoek in 1700. Volvox developed its colonial lifestyle .-Description:Volvox is the most developed...
(the latter of which consists of up to 500 — 50,000 cells (depending on the species), only a fraction of which reproduce (in one species 25 — 35, 8 asexually and around 15 — 25 sexually). However, it can often be hard to separate colonial
protist
Protist
Protists are a diverse group of eukaryotic microorganisms. Historically, protists were treated as the kingdom Protista, which includes mostly unicellular organisms that do not fit into the other kingdoms, but this group is contested in modern taxonomy...
s from true multicellular organisms, as the two concepts are not distinct (although the former has been dubbed pluricellular and the latter multicellular). This problem plagues most hypotheses of how multicellularisation could have occurred.
Advantages of Multicellularity
Allows an organism to grow larger than would be otherwise possible, and consequently enjoy all the competitive benefits of an increase in size, beyond the limits normally imposed by diffusion

Diffusion

Molecular diffusion, often called simply diffusion, is the thermal motion of all particles at temperatures above absolute zero. The rate of this movement is a function of temperature, viscosity of the fluid and the size of the particles...


.
Permits increasing complexity via allowing the differentiation of numerous cellular lineages within an organism.
See also
Cellular differentiation

Cellular differentiation

In developmental biology, cellular differentiation is the process by which a less specialized cell becomes a more specialized cell type. Differentiation occurs numerous times during the development of a multicellular organism as the organism changes from a simple zygote to a complex system of...



Organogenesis

Organogenesis

In animal development, organogenesis is the process by which the ectoderm, endoderm, and mesoderm develop into the internal organs of the organism. Internal organs initiate development in humans within the 3rd to 8th weeks in utero...



Embryogenesis

Embryogenesis

Embryogenesis is the process by which the embryo is formed and develops, until it develops into a fetus.Embryogenesis starts with the fertilization of the ovum by sperm. The fertilized ovum is referred to as a zygote...



Eukaryote

Eukaryote

A eukaryote is an organism whose cells contain complex structures enclosed within membranes. Eukaryotes may more formally be referred to as the taxon Eukarya or Eukaryota. The defining membrane-bound structure that sets eukaryotic cells apart from prokaryotic cells is the nucleus, or nuclear...



Bacterial colony
Nicole King

Nicole King

Nicole King is an American biologist and faculty member at the University of California, Berkeley in molecular and cell biology and integrative biology...


, a biologist studying the evolution of multicellularity
External links