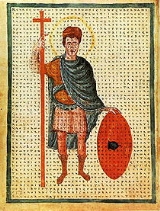 Louis the Pious
Louis the Pious
also called
the Fair
, and
the Debonaire
, was the King of Aquitaine from 781. He was also King of the Franks and
co-Emperor
Holy Roman Emperor
The Holy Roman Emperor is a term used by historians to denote a medieval ruler who, as German King, had also received the title of "Emperor of the Romans" from the Pope...
(as
Louis I
) with his father,
Charlemagne
Charlemagne
Charlemagne was King of the Franks from 768 and Emperor of the Romans from 800 to his death in 814. He expanded the Frankish kingdom into an empire that incorporated much of Western and Central Europe. During his reign, he conquered Italy and was crowned by Pope Leo III on 25 December 800...
, from 813. As the only surviving adult son of Charlemagne and Hildegard, he became the sole ruler of the Franks after his father's death in 814, a position which he held until his death, save for the period 833–34, during which he was deposed.
During his reign in Aquitaine, Louis was charged with the defence of the Empire's southwestern frontier.