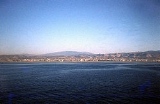 Latakia
Latakia
, or
Latakiyah
(
Al-Lādhiqiyyah
), is the principal port city of
Syria
Syria
Syria , officially the Syrian Arab Republic , is a country in Western Asia, bordering Lebanon and the Mediterranean Sea to the West, Turkey to the north, Iraq to the east, Jordan to the south, and Israel to the southwest....
, as well as the capital of the
Latakia Governorate
Latakia Governorate
Latakia Governorate or muhafazah al Ladhiqiyah is one of the fourteen governorates of Syria. It is situated in western Syria, bordering Turkey. Its reported area varies in different sources from 2,297 km² to 2,437 km² . The Governorate has a population of 991,000 and is one of the...
. In addition to serving as a port, the city is a manufacturing center for surrounding agricultural towns and villages. Its population in 2009 was 650,558 and consisted of
Sunni Muslims
Sunni Islam
Sunni Islam is the largest branch of Islam. Sunni Muslims are referred to in Arabic as ʾAhl ūs-Sunnah wa āl-Ǧamāʿah or ʾAhl ūs-Sunnah for short; in English, they are known as Sunni Muslims, Sunnis or Sunnites....
,
Alawite
Alawite
The Alawis, also known as Alawites, Nusayris and Ansaris are a prominent mystical and syncretic religious group centred in Syria who are a branch of Shia Islam.-Etymology:...
s and
Greek Orthodox Christian
Greek Orthodox Church
The Greek Orthodox Church is the body of several churches within the larger communion of Eastern Orthodox Christianity sharing a common cultural tradition whose liturgy is also traditionally conducted in Koine Greek, the original language of the New Testament...
s.
Though the site has been inhabited since the second millennium BC, the modern-day city was first founded in the 4th century BC under the rule of the
Seleucid empire
Seleucid Empire
The Seleucid Empire was a Greek-Macedonian state that was created out of the eastern conquests of Alexander the Great. At the height of its power, it included central Anatolia, the Levant, Mesopotamia, Persia, today's Turkmenistan, Pamir and parts of Pakistan.The Seleucid Empire was a major centre...
.