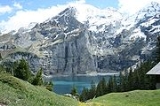 Landscape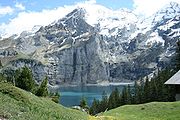 Landscape
comprises the visible features of an area of land, including the physical elements of
landform
Landform
A landform or physical feature in the earth sciences and geology sub-fields, comprises a geomorphological unit, and is largely defined by its surface form and location in the landscape, as part of the terrain, and as such, is typically an element of topography...
s such as (ice-capped) mountains, hills, water bodies such as
river
River
A river is a natural watercourse, usually freshwater, flowing towards an ocean, a lake, a sea, or another river. In a few cases, a river simply flows into the ground or dries up completely before reaching another body of water. Small rivers may also be called by several other names, including...
s,
lake
Lake
A lake is a body of relatively still fresh or salt water of considerable size, localized in a basin, that is surrounded by land. Lakes are inland and not part of the ocean and therefore are distinct from lagoons, and are larger and deeper than ponds. Lakes can be contrasted with rivers or streams,...
s, ponds and the
sea
Sea
A sea generally refers to a large body of salt water, but the term is used in other contexts as well. Most commonly, it means a large expanse of saline water connected with an ocean, and is commonly used as a synonym for ocean...
, living elements of
land cover
Land Cover
Land cover is the physical material at the surface of the earth. Land covers include grass, asphalt, trees, bare ground, water, etc. There are two primary methods for capturing information on land cover: field survey and analysis of remotely sensed imagery....
including indigenous
vegetation
Vegetation
Vegetation is a general term for the plant life of a region; it refers to the ground cover provided by plants. It is a general term, without specific reference to particular taxa, life forms, structure, spatial extent, or any other specific botanical or geographic characteristics. It is broader...
, human elements including different forms of
land use
Land use
Land use is the human use of land. Land use involves the management and modification of natural environment or wilderness into built environment such as fields, pastures, and settlements. It has also been defined as "the arrangements, activities and inputs people undertake in a certain land cover...
, buildings and structures, and transitory elements such as
lighting
Lighting
Lighting or illumination is the deliberate application of light to achieve some practical or aesthetic effect. Lighting includes the use of both artificial light sources such as lamps and light fixtures, as well as natural illumination by capturing daylight...
and
weather
Weather
Weather is the state of the atmosphere, to the degree that it is hot or cold, wet or dry, calm or stormy, clear or cloudy. Most weather phenomena occur in the troposphere, just below the stratosphere. Weather refers, generally, to day-to-day temperature and precipitation activity, whereas climate...
conditions.
Combining both their physical origins and the cultural overlay of human presence, often created over millennia, landscapes reflect the living synthesis of people and place vital to local and
national identity
National identity
National identity is the person's identity and sense of belonging to one state or to one nation, a feeling one shares with a group of people, regardless of one's citizenship status....
. Landscapes, their character and quality, help define the self image of a region, its sense of place that differentiates it from other regions. It is the dynamic backdrop to people's lives.
The
Earth
Earth
Earth is the third planet from the Sun, and the densest and fifth-largest of the eight planets in the Solar System. It is also the largest of the Solar System's four terrestrial planets...
has a vast range of landscapes including the icy landscapes of
polar region
Polar region
Earth's polar regions are the areas of the globe surrounding the poles also known as frigid zones. The North Pole and South Pole being the centers, these regions are dominated by the polar ice caps, resting respectively on the Arctic Ocean and the continent of Antarctica...
s,
mountain
Mountain
Image:Himalaya_annotated.jpg|thumb|right|The Himalayan mountain range with Mount Everestrect 58 14 160 49 Chomo Lonzorect 200 28 335 52 Makalurect 378 24 566 45 Mount Everestrect 188 581 920 656 Tibetan Plateaurect 250 406 340 427 Rong River...
ous landscapes, vast arid
desert
Desert
A desert is a landscape or region that receives an extremely low amount of precipitation, less than enough to support growth of most plants. Most deserts have an average annual precipitation of less than...
landscapes,
island
Island
An island or isle is any piece of sub-continental land that is surrounded by water. Very small islands such as emergent land features on atolls can be called islets, cays or keys. An island in a river or lake may be called an eyot , or holm...
s and
coast
Coast
A coastline or seashore is the area where land meets the sea or ocean. A precise line that can be called a coastline cannot be determined due to the dynamic nature of tides. The term "coastal zone" can be used instead, which is a spatial zone where interaction of the sea and land processes occurs...
al landscapes, densely
forest
Forest
A forest, also referred to as a wood or the woods, is an area with a high density of trees. As with cities, depending where you are in the world, what is considered a forest may vary significantly in size and have various classification according to how and what of the forest is composed...
ed or wooded landscapes including past boreal forests and tropical rainforests, and agricultural landscapes of
temperate
Temperate
In geography, temperate or tepid latitudes of the globe lie between the tropics and the polar circles. The changes in these regions between summer and winter are generally relatively moderate, rather than extreme hot or cold...
and tropical regions.
Landscape may be further reviewed under the following specific categories:
cultural landscape
Cultural landscape
Cultural Landscapes have been defined by the World Heritage Committee as distinct geographical areas or properties uniquely "..represent[ing] the combined work of nature and of man.."....
,
landscape ecology
Landscape ecology
Landscape ecology is the science of studying and improving relationships between urban development and ecological processes in the environment and particular ecosystems...
,
landscape planning
Landscape planning
Landscape planning is a branch of landscape architecture. Urban park systems and greenway of the type planned by Frederick Law Olmsted are key examples of urban landscape planning. Landscape designers tend to work for clients who wish to commission construction work...
,
landscape assessment
Landscape assessment
Landscape assessment is a sub-category of environmental assessment concerned with quality assessment of the landscape. Landscape quality is assessed either as part of a strategic planning process or in connection with a specific development which will have an impact on the landscape.The term...
and
landscape design
Landscape design
Landscape design is an independent profession and a design and art tradition, practised by landscape designers, combining nature and culture. In contemporary practice landscape design bridges between landscape architecture and garden design.-Design scope:...
.
Etymology
It is believed that the word
landskift
,
landscipe
or
landscaef
entered the
English language
English language
English is a West Germanic language that arose in the Anglo-Saxon kingdoms of England and spread into what was to become south-east Scotland under the influence of the Anglian medieval kingdom of Northumbria...
some time after the 5th century. These terms referred to a system of human-made spaces in the land - spaces such as fields with boundaries though not necessarily defined by fences or walls. It also referred to a natural unit, a
region
Region
Region is most commonly found as a term used in terrestrial and astrophysics sciences also an area, notably among the different sub-disciplines of geography, studied by regional geographers. Regions consist of subregions that contain clusters of like areas that are distinctive by their uniformity...
or tract of land such as a river
valley
Valley
In geology, a valley or dale is a depression with predominant extent in one direction. A very deep river valley may be called a canyon or gorge.The terms U-shaped and V-shaped are descriptive terms of geography to characterize the form of valleys...
or range of hills as occupied by a
tribe
Tribe
A tribe, viewed historically or developmentally, consists of a social group existing before the development of, or outside of, states.Many anthropologists use the term tribal society to refer to societies organized largely on the basis of kinship, especially corporate descent groups .Some theorists...
or later, ruled by a feudal lord. The term is similar in meaning to the German landschaft referring to a small administrative unit or region. The term fell into disuse and by the time of the
Domesday Book
Domesday Book
Domesday Book , now held at The National Archives, Kew, Richmond upon Thames in South West London, is the record of the great survey of much of England and parts of Wales completed in 1086...
in the 11th century the word did not appear in any translation from the Latin.
The modern form of the word with its connotations of
scenery
Theatrical scenery
Theatrical scenery is that which is used as a setting for a theatrical production. Scenery may be just about anything, from a single chair to an elaborately re-created street, no matter how large or how small, whether or not the item was custom-made or is, in fact, the genuine item, appropriated...
appeared in the late 16th century when the term
landschap
was introduced by Dutch painters when referring to paintings of inland natural or rural scenery.
Landscape
, first recorded in 1598, was borrowed as a painters' term from Dutch during the 16th century, when Dutch artists were on the verge of becoming masters of the
landscape art
Landscape art
Landscape art is a term that covers the depiction of natural scenery such as mountains, valleys, trees, rivers, and forests, and especially art where the main subject is a wide view, with its elements arranged into a coherent composition. In other works landscape backgrounds for figures can still...
genre. The Dutch word
landschap
had earlier meant simply 'region, tract of land' but had acquired the artistic sense, which it brought over into English, of 'a picture depicting scenery on land'.
According to Jackson: "From 1577 with Harrison's
Description of Britain
onwards, a new awareness of the aesthetic nature of landscape emerged as a new kind of topographical writing flourished...". Originally the term was translated
landskip
which the Oxford English Dictionary refers to as the corrupt form of the word, gradually to be replaced by
landscape
. The English word is not recorded as used for physical landscapes before 1725.
Following a lengthy analysis concentrating on the German term
landschaft
,
Richard Hartshorne
Richard Hartshorne
Richard Hartshorne was a prominent American geographer. He completed his undergraduate studies at Princeton University and his doctorate at the University of Chicago , then taught at the University of Minnesota and the University of Wisconsin , with war-time interruption to...
defined
landscape
as referring to "the external, visible, (or touchable) surface of the earth. This surface is formed by the outer surfaces, those in immediate contact with the atmosphere, of vegetation, bare earth, snow, ice, or water bodies or the features made by man."
Hartshorne differentiated the term from
region
which he considers is larger and more flexible in size. He eliminated
sky
Sky
The sky is the part of the atmosphere or outer space visible from the surface of any astronomical object. It is difficult to define precisely for several reasons. During daylight, the sky of Earth has the appearance of a pale blue surface because the air scatters the sunlight. The sky is sometimes...
on the basis that the atmosphere is simply the medium through which the Earth's surface is viewed and also excludes underground mine workings, the soil beneath vegetation and rainfall. However he included moveable objects noting that a view of
Broadway (New York City)
Broadway (New York City)
Broadway is a prominent avenue in New York City, United States, which runs through the full length of the borough of Manhattan and continues northward through the Bronx borough before terminating in Westchester County, New York. It is the oldest north–south main thoroughfare in the city, dating to...
without traffic would be incomplete. He ignored the inclusion of oceans in landscape. He opposed
perception
Perception
Perception is the process of attaining awareness or understanding of the environment by organizing and interpreting sensory information. All perception involves signals in the nervous system, which in turn result from physical stimulation of the sense organs...
of landscapes by other than sight, e.g. sounds and odours, on the grounds that these do not contribute to a unified concept. In regard to the concept of natural and cultural landscapes that Carl Sauer among others differentiated, he stated "the natural landscape ceased to exist when man appeared on the scene". While admitting the term
primeval landscape
could refer to pre-human landscapes he considered the present
natural landscape
Natural landscape
A natural landscape is a landscape that is unaffected by human activity. A natural landscape is intact when all living and nonliving elements are free to move and change. The nonliving elements distinguish a natural landscape from a wilderness. A wilderness includes areas within which natural...
is "a theoretical concept which never did exist".
During the 1920s and 1930s, attempts were made to construct methodologies that made landscape the essential if not exclusive task of
geography
Geography
Geography is the science that studies the lands, features, inhabitants, and phenomena of Earth. A literal translation would be "to describe or write about the Earth". The first person to use the word "geography" was Eratosthenes...
. This stemmed from Sauer's view that the role of geography was to systematically examine the "
phenomenology
Phenomenology (archaeology)
In archaeology, phenomenology applies to the use of sensory experiences to view and interpret an archaeological site or cultural landscape. It first came to widespread attention among archaeologists with the publication of Christopher Tilley's A Phenomenology of Landscape , in which he suggested it...
of landscape". Sauer viewed landscapes broadly as areas comprising distinct associations of forms, both physical and natural, and regarded landscape study as tracing the development of natural landscapes into cultural landscapes.
By the 1940s, this emphasis had passed as geographers found that the difficulties associated with reconstructing the past were forbidding and at odds with their primary concern with the present world. The concept of a
natural
landscape became increasingly questioned with knowledge of human impact on the environment. More recent geographers have addressed the subjective attributes of a place within humanistic geography thus crossing the bridge between the objective and the subjective assessment of an area.
The popular conception of the
landscape
that is reflected in dictionaries conveys a particular and a general meaning; the particular referring to an area of the Earth's surface and the general meaning being that which can be seen by an observer.
With greater attention to the environmental perception by psychologists over recent decades, landscape is regarded as the raw material with which to study human perceptions and human
information processing
Information processing
Information processing is the change of information in any manner detectable by an observer. As such, it is a process which describes everything which happens in the universe, from the falling of a rock to the printing of a text file from a digital computer system...
. Thus Daniels & Cosgrove defined
landscape
, not in physical terms but as an outward expression of human perception: "a landscape is a cultural image, a pictorial way of representing, structuring or symbolising surroundings." Meinig combined the physical and the psychological: "any landscape is composed not only of what lies before our eyes but what lies within our heads.".
In recent decades the term environment has gained wide usage. Jay Appleton (see
Environmental psychology
Environmental psychology
Environmental psychology is an interdisciplinary field focused on the interplay between humans and their surroundings. The field defines the term environment broadly, encompassing natural environments, social settings, built environments, learning environments, and informational environments...
) distinguished
environment
from
landscape
by referring to the latter as "the environment perceived". An advantage which the term environment has over landscape is, as Bourassa noted, that environment can refer more readily to urban scenes although the term
urban landscape
is also in common usage. As the term
environment
embraces the total physical, biological, cultural and aesthetic components of an area, it is generally regarded as too broad and encompassing a term for landscape.
The terms
scene
Scene
- Arts and media :* Scene , an element of a larger fictional work such as a play* Scene , a part of action in a single location in a TV or movie, composed of a series of shots* Scene , a BBC drama anthology for teenagers...
,
scenic
Scenic
Scenic is the first full-length album by Denver Harbor, released on October 12, 2004 on Universal Records. It contains re-recorded versions of four of the five tracks from their debut EP Extended Play , as well as two of the three songs from their 2003 demo Scenic is the first full-length album by...
and
scenery
are inadequate descriptions of landscape. With its roots in the
theatre
Theatre
Theatre is a collaborative form of fine art that uses live performers to present the experience of a real or imagined event before a live audience in a specific place. The performers may communicate this experience to the audience through combinations of gesture, speech, song, music or dance...
where a scene describes a portion of a play, so a scene can describe a portion of a landscape.
Scenery
, which describes the decorative backdrops used on a stage, also refers to the general appearance of a place, particularly a
picturesque
Picturesque
Picturesque is an aesthetic ideal introduced into English cultural debate in 1782 by William Gilpin in Observations on the River Wye, and Several Parts of South Wales, etc. Relative Chiefly to Picturesque Beauty; made in the Summer of the Year 1770, a practical book which instructed England's...
view. While it can be used interchangeably with
landscape
it does not convey the same depth of meaning.
The term
landscape aesthetics
or just
aesthetics
Aesthetics
Aesthetics is a branch of philosophy dealing with the nature of beauty, art, and taste, and with the creation and appreciation of beauty. It is more scientifically defined as the study of sensory or sensori-emotional values, sometimes called judgments of sentiment and taste...
is frequently used in the literature. Aesthetics has a more controversial origin than landscape. It derived from the Greek
aisthesis
meaning "sense perception". The term was used as the title of the book
Aesthetica
[1750-58] by Alexander Baumgarten [1714 - 62], a minor German philosopher who incorrectly applied the Greek term to a critique of the
beautiful
Beauty
Beauty is a characteristic of a person, animal, place, object, or idea that provides a perceptual experience of pleasure, meaning, or satisfaction. Beauty is studied as part of aesthetics, sociology, social psychology, and culture...
or the theory of
taste (sociology)
Taste (sociology)
Taste as an aesthetic, sociological, economic and anthropological concept refers to a cultural patterns of choice and preference. While taste is often understood as a biological concept, it can also be reasonably studied as a social or cultural phenomenon. Taste is about drawing distinctions...
. Thus the term which originally applied to the broad field of sense perception was restricted to the area of taste.
Immanuel Kant
Immanuel Kant
Immanuel Kant was a German philosopher from Königsberg , researching, lecturing and writing on philosophy and anthropology at the end of the 18th Century Enlightenment....
in 1781 criticised this use and applied it in accordance with its classical meaning "the philosophy of sensuous perception". However, the corrupted term
aesthetics
gained popular acceptance entering England after 1830 and, according to the Oxford English Dictionary, within a century of the coining of the meaning by Baumgarten, it was in use widely throughout Europe.
The dictionary definition of
aesthetic
perpetuates Baumgarten's error and defines it as "things perceptible by the senses as opposed to things thinkable or immaterial", "pertaining to the sense of the beautiful or the science of aesthetics"Macquarie Dictionary, 1981., or "of, relating to, or dealing with aesthetics or the beautiful".
Aesthetics
is regarded as a branch of
philosophy
Philosophy
Philosophy is the study of general and fundamental problems, such as those connected with existence, knowledge, values, reason, mind, and language. Philosophy is distinguished from other ways of addressing such problems by its critical, generally systematic approach and its reliance on rational...
, that which "deduces from nature and taste the rules and principles of art, the theory of the fine arts; the science of the beautiful..." or "[that] dealing with the nature of the beautiful and with judgements concerning beauty".
Thus landscapes have often been the subject of inquiry within the broad framework of aesthetics in the quest for an understanding of beauty.
See also