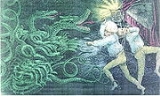 Jacksonian democracy
Jacksonian democracy
is the political movement toward greater democracy for the common man typified by American politician
Andrew Jackson
Andrew Jackson
Andrew Jackson was the seventh President of the United States . Based in frontier Tennessee, Jackson was a politician and army general who defeated the Creek Indians at the Battle of Horseshoe Bend , and the British at the Battle of New Orleans...
and his supporters. Jackson's policies followed the era of
Jeffersonian democracy
Jeffersonian democracy
Jeffersonian Democracy, so named after its leading advocate Thomas Jefferson, is a term used to describe one of two dominant political outlooks and movements in the United States from the 1790s to the 1820s. The term was commonly used to refer to the Democratic-Republican Party which Jefferson...
which dominated the previous political era. The Democratic-Republican Party of the Jeffersonians became factionalized in the 1820s. Jackson's supporters began to form the modern Democratic Party; they fought the rival Adams and Anti-Jacksonian factions, which soon emerged as the
Whigs
Whig Party (United States)
The Whig Party was a political party of the United States during the era of Jacksonian democracy. Considered integral to the Second Party System and operating from the early 1830s to the mid-1850s, the party was formed in opposition to the policies of President Andrew Jackson and his Democratic...
.
More broadly, the term refers to the period of the
Second Party System
Second Party System
The Second Party System is a term of periodization used by historians and political scientists to name the political party system existing in the United States from about 1828 to 1854...
(mid 1830s-1854) when the democratic mood was the spirit of that era.