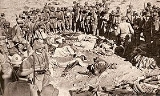 Italo-Turkish War
The
Italo-Turkish
or
Turco-Italian War
(also known in Italy as the
Guerra di Libia
, "Libyan war", and in Turkey as the
Trablusgarp Savaşı
, "Tripolitan war") was fought between the
Ottoman Empire
Ottoman Empire
The Ottoman EmpireIt was usually referred to as the "Ottoman Empire", the "Turkish Empire", the "Ottoman Caliphate" or more commonly "Turkey" by its contemporaries...
and the
Kingdom of Italy
Kingdom of Italy (1861–1946)
The Kingdom of Italy was a state forged in 1861 by the unification of Italy under the influence of the Kingdom of Sardinia, which was its legal predecessor state...
from September 29, 1911 to October 18, 1912.
As a result of this conflict, Italy was awarded the Ottoman provinces of
Tripolitania
Tripolitania
Tripolitania or Tripolitana is a historic region and former province of Libya.Tripolitania was a separate Italian colony from 1927 to 1934...
,
Fezzan
Fezzan
Fezzan is a south western region of modern Libya. It is largely desert but broken by mountains, uplands, and dry river valleys in the north, where oases enable ancient towns and villages to survive deep in the otherwise inhospitable Sahara.-Name:...
, and
Cyrenaica
Cyrenaica
Cyrenaica is the eastern coastal region of Libya.Also known as Pentapolis in antiquity, it was part of the Creta et Cyrenaica province during the Roman period, later divided in Libia Pentapolis and Libia Sicca...
. These provinces together formed what became known as
Libya
Libya
Libya is an African country in the Maghreb region of North Africa bordered by the Mediterranean Sea to the north, Egypt to the east, Sudan to the southeast, Chad and Niger to the south, and Algeria and Tunisia to the west....
.
During the conflict, Italian forces also occupied the Dodecanese Islands in the
Aegean Sea
Aegean Sea
The Aegean Sea[p] is an elongated embayment of the Mediterranean Sea located between the southern Balkan and Anatolian peninsulas, i.e., between the mainlands of Greece and Turkey. In the north, it is connected to the Marmara Sea and Black Sea by the Dardanelles and Bosporus...
.