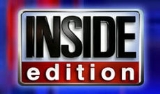 Inside Edition
Inside Edition
is a thirty-minute American television syndicated news program, first aired on
CBS
CBS
CBS Broadcasting Inc. is a major US commercial broadcasting television network, which started as a radio network. The name is derived from the initials of the network's former name, Columbia Broadcasting System. The network is sometimes referred to as the "Eye Network" in reference to the shape of...
on October 9, 1988. It was originally similar to the programs
Hard Copy
Hard Copy
Hard Copy is an American tabloid news television show that ran in syndication from 1989 to 1999. Hard Copy was aggressive in its use of questionable material on television, including gratuitous violence....
and
A Current Affair,
but now more closely resembles a condensed version of
breakfast television
Breakfast television
Breakfast television or morning show , is a type of infotainment television program, broadcast live in the morning...
, exclusively with pre-recorded stories rather than any live interviews. It was created by John Tomlin and Bob Young for King World Productions before that company became part of
CBS Television Distribution
CBS Television Distribution
CBS Television Distribution is a global television distribution company, formed from the merger of CBS Corporation's two domestic television distribution arms CBS Paramount Domestic Television and King World Productions, including its home entertainment arm CBS Home Entertainment...
, which also still distributes
Entertainment Tonight
Entertainment Tonight
Entertainment Tonight is a daily tabloid television entertainment television news show that is syndicated by CBS Television Distribution throughout the United States, Canada and in many countries around the world. Linda Bell Blue is currently the program's executive producer...
and
The Insider

The Insider (TV series)

The Insider is an American tabloid television news program covering events and celebrities. It debuted on September 13, 2004 as a spinoff of Entertainment Tonight and started as a popular segment that took viewers "behind closed doors" and gave them "inside" information...


.
The show was originally a mix of tabloid crime stories, investigations, and celebrity gossip; now it has become a mix of news, bizarre crime, investigative pieces on consumer scams/safety, pop culture features, celebrity news/gossip, offbeat stories and human interest stories.
The first anchor correspondent of the program was
David Frost
David Frost
Sir David Frost is a British broadcaster.David Frost may also refer to:*David Frost , South African golfer*David Frost , classical record producer*David Frost *Dave Frost, baseball pitcher...
, who was abruptly replaced after approximately three weeks with
Bill O'Reilly
Bill O'Reilly (political commentator)
William James "Bill" O'Reilly, Jr. is an American television host, author, syndicated columnist and political commentator. He is the host of the political commentary program The O'Reilly Factor on the Fox News Channel, which is the most watched cable news television program on American television...
. The current anchor correspondent is former
Today
anchor correspondent
Deborah Norville
Deborah Norville
Deborah Norville is an American television broadcaster and journalist. Since 1995 she has been host of the syndicated American television program Inside Edition...
, who took over for O'Reilly in 1995. Steve Kamer has been the show's announcer since its inception.
During the summer months, rebroadcasts of investigative, special interest and offbeat stories from previous editions are often included, with correspondents introducing current general and entertainment news headlines; as such, Norville is typically seen only in pre-taped "tosses" to correspondents to introduce that day's current news stories and in during rebroadcast stories.
On August 29, 2011,
Inside Edition
began airing in high definition, becoming the last syndicated newsmagazine to do so.
Correspondents
Megan Alexander - New York-based correspondent (2007–present)
Paul Boyd

Paul Boyd (journalist)

Paul Graham Boyd is a Canadian-American television journalist.He is a correspondent for the syndicated newsmagazine Inside Edition and co-anchor of Inside Edition Weekend produced by CBS Television Distribution....


- New York-based correspondent & weekend anchor (2001–present)
Lisa Guerrero

Lisa Guerrero

Lisa Coles Guerrero is an American sportscaster, actress, host and model. The Los Angeles Times has called Guerrero the 'hardest working sports reporter'. The Hispanic Business Journal named her one of the 100 most influential Hispanics in America. President George W...


- chief investigative correspondent (2010–present)
Diane McInerney - New York-based correspondent & weekend co-/fill-in anchor (2003–present)
Jim Moret

Jim Moret

Jim Moret is currently the chief correspondent for the syndicated television news magazine Inside Edition. Moret has covered entertainment news and traditional hard news stories for over 25 years...


- Los Angeles-based chief correspondent (2004–present)
Les Trent - New York-based senior correspondent (2000–present)
April Woodard - New York-based senior correspondent (2001–present)
Former on-air staff
Trish Bergin - weekend anchor/correspondent (2002–2003)
Logan Byrnes - correspondent (now at WTIC-TV

WTIC-TV

WTIC-TV, channel 61, is a television station in Hartford, Connecticut. Owned by the Tribune Company, WTIC-TV is a charter affiliate of the Fox Broadcasting Company...


in Hartford)
Don Criqui

Don Criqui

Don Criqui is an American sportscaster, currently employed as a play-by-play announcer for CBS Sports. Criqui's duties include occasional television coverage of National Football League games, women's and men's college basketball, occasional college football and radio play-by-play of ISP Sports'...


- weekend anchor/correspondent (1995–2002)
Rita Cosby

Rita Cosby

Rita Cosby is a television news anchor and correspondent, radio host, and best selling author. She is currently a Special Correspondent for the CBS syndicated program Inside Edition, specializing in interviewing newsmakers and political figures...


- New York-based correspondent (2008–2009)
Kim Dean - correspondent (2004–2007, now at WRAL-TV

WRAL-TV

WRAL-TV, virtual channel 5 , is a television station in Raleigh, North Carolina. WRAL-TV has been the flagship station of Capitol Broadcasting Company since its inception, and is currently the CBS affiliate for the Raleigh/Durham/Chapel Hill/Fayetteville area, known collectively as the Triangle...


)
David Frost

David Frost

Sir David Frost is a British broadcaster.David Frost may also refer to:*David Frost , South African golfer*David Frost , classical record producer*David Frost *Dave Frost, baseball pitcher...


- inaugural anchor correspondent (1989; now hosts a current affairs program on Al Jazeera English)
Rudy Giuliani

Rudy Giuliani

Rudolph William Louis "Rudy" Giuliani KBE is an American lawyer, businessman, and politician from New York. He served as Mayor of New York City from 1994 to 2001....


- chief legal analyst (1990–1993; former New York City

New York City

New York is the most populous city in the United States and the center of the New York Metropolitan Area, one of the most populous metropolitan areas in the world. New York exerts a significant impact upon global commerce, finance, media, art, fashion, research, technology, education, and...


mayor and former presidential candidate)
Nancy Glass

Nancy Glass

Nancy Glass is an American television and radio host, writer and producer.-Career:Nancy Glass is currently the owner of . Her company has produced programming for A&E, E!, TLC, WE, LOGO, National Geographic, Animal Planet, HGTV, DIY and XM/Sirius satellite radio. They have also produced hundreds of...


- weekend anchor/senior correspondent (1992–1993)
Stacey Gualandi - Los Angeles-based correspondent (1997–2006; now at Radar Online)
Kristina Guerrero - Los Angeles-based correspondent (2007–2009; now at E! News

E! News

E! News, previously known as E! News Daily and E! News Live, is a nightly entertainment newsmagazine program airing on E!: Entertainment Television. The program debuted on September 1, 1991 and talks about Hollywood celebrities and gossip...


)
Star Jones

Star Jones

Star Jones is an American lawyer, journalist, writer, and television personality. She is known for her role as a co-host of the ABC weekday morning talk show The View...


- chief legal analyst (1994–1997; former personality for both The View and truTV)
Rick Kirkham

Rick Kirkham

Rick Kirkham was a reporter for Inside Edition who appeared on a segment called "Inside Adventure". From the age of 14, he filmed more than 3,000 hours of a video diary; this included footage during his tenure on Inside Edition during which he was addicted to crack cocaine.He appeared on The Oprah...


- correspondent
Matt Meagher - senior investigative correspondent (1989–2010)
Bill O'Reilly

Bill O'Reilly (political commentator)

William James "Bill" O'Reilly, Jr. is an American television host, author, syndicated columnist and political commentator. He is the host of the political commentary program The O'Reilly Factor on the Fox News Channel, which is the most watched cable news television program on American television...


- anchor correspondent (1989–1995; now hosts The O'Reilly Factor

The O'Reilly Factor

The O'Reilly Factor, originally titled The O'Reilly Report from 1996 to 1998 and often called The Factor, is an American talk show on the Fox News Channel hosted by commentator Bill O'Reilly, who often discusses current controversial political issues with guests.The program was the most watched...


on Fox News Channel

Fox News Channel

Fox News Channel , often called Fox News, is a cable and satellite television news channel owned by the Fox Entertainment Group, a subsidiary of News Corporation...


)
Victoria Recaño

Victoria Recaño

Victoria Recaño is an American television personality currently working for TV Guide Network. Her last assignment was co-anchoring the 6 pm and 10 pm news on Los Angeles television station KTLA. She did that work from September 14, 2009 until late May 2010, when she left the show without any...


- reporter (2002–2004; later at The Insider

The Insider (TV series)

The Insider is an American tabloid television news program covering events and celebrities. It debuted on September 13, 2004 as a spinoff of Entertainment Tonight and started as a popular segment that took viewers "behind closed doors" and gave them "inside" information...


, KTLA-TV and TV Guide Network)
Jon Scott

Jon Scott

Jon Scott is an American television news anchor, co-hosting Happening Now from 11:00 a.m.–1:00 p.m. ET with Jenna Lee on Fox News Channel.-Personal life and education:...


- reporter (1989–1992; now hosts Happening Now

Happening Now

Happening Now is a news program broadcast on the Fox News Channel weekdays at 11:00 a.m. Eastern Time.-About the show:The show is hosted by Jon Scott and Jenna Lee with breaking news updates from Harris Faulkner and Rick Folbaum. Happening Now replaced the 11am-1pm ET block of Fox News Live in 2007...


on Fox News Channel)
Steve Wilson

Steve Wilson (reporter)

Steve Wilson is an American news reporter. Currently running his own nonprofit investigative reporting group, he is best known for his whistleblower lawsuit with then-wife Jane Akre against WTVT in 1997 and his work as WXYZ-TV's Chief Investigative Reporter in Detroit, Michigan in the late...


- reporter (1992–1995; a former reporter for WXYZ-TV

WXYZ-TV

WXYZ-TV, channel 7, is an ABC-affiliated television station in Detroit, Michigan, USA. WXYZ-TV is owned by the E.W. Scripps Company, and is the media company's largest-market TV station property...


in Detroit, Michigan

Detroit, Michigan

Detroit is the major city among the primary cultural, financial, and transportation centers in the Metro Detroit area, a region of 5.2 million people. As the seat of Wayne County, the city of Detroit is the largest city in the U.S. state of Michigan and serves as a major port on the Detroit River...


)
External links