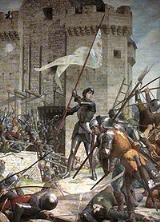 Hundred Years' War
The
Hundred Years' War
was a series of separate wars waged from 1337 to 1453 by the House of Valois and the
House of Plantagenet
House of Plantagenet
The House of Plantagenet , a branch of the Angevins, was a royal house founded by Geoffrey V of Anjou, father of Henry II of England. Plantagenet kings first ruled the Kingdom of England in the 12th century. Their paternal ancestors originated in the French province of Gâtinais and gained the...
, also known as the House of Anjou, for the French throne, which had become vacant upon the extinction of the senior
Capetian
House of Capet
The House of Capet, or The Direct Capetian Dynasty, , also called The House of France , or simply the Capets, which ruled the Kingdom of France from 987 to 1328, was the most senior line of the Capetian dynasty – itself a derivative dynasty from the Robertians. As rulers of France, the dynasty...
line of French kings. The House of Valois claimed the title of King of France, while the Plantagenets claimed the thrones of both France and England. The Plantagenet kings were the 12th-century rulers of the kingdom of England, and had their roots in the French regions of
Anjou
Anjou
Anjou is a former county , duchy and province centred on the city of Angers in the lower Loire Valley of western France. It corresponds largely to the present-day département of Maine-et-Loire...
and
Normandy
Normandy
Normandy is a geographical region corresponding to the former Duchy of Normandy. It is in France.The continental territory covers 30,627 km² and forms the preponderant part of Normandy and roughly 5% of the territory of France. It is divided for administrative purposes into two régions:...
.
The conflict was punctuated by several periods of peace, before it finally ended in the expulsion of the Plantagenets from France (except from the
Pale of Calais
Pale of Calais
The Pale of Calais is a historical region of France that was controlled by the Kingdom of England until 1558.- History :After the Battle of Crécy in 1346, Edward III of England, having renounced the throne of France, kept some territory within France, namely Aquitaine and the area around Calais,...
).