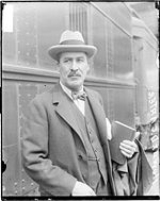 Howard Carter (archaeologist)
Howard Carter
was an English archaeologist and
Egyptologist
Egyptology
Egyptology is the study of ancient Egyptian history, language, literature, religion, and art from the 5th millennium BC until the end of its native religious practices in the AD 4th century. A practitioner of the discipline is an "Egyptologist"...
, noted as a primary discoverer of the tomb of
Tutankhamun
Tutankhamun
Tutankhamun , Egyptian , ; approx. 1341 BC – 1323 BC) was an Egyptian pharaoh of the 18th dynasty , during the period of Egyptian history known as the New Kingdom...
.
In 1891, at the age of 17, Carter, a talented young artist, was sent out to Egypt by the Egypt Exploration Fund to assist
Percy Newberry
Percy Newberry
Percy Edward Newberry was a British Egyptologist.-Early life:Newberry was born in Islington, London in 1869. His mother was named Caroline Wyatt, and his father, Henry James Newberry, was a woollen warehouseman. Newberry developed a strong attachment to botany in childhood and was also an...
in the excavation and recording of
Middle Kingdom
Middle Kingdom of Egypt
The Middle Kingdom of Egypt is the period in the history of ancient Egypt stretching from the establishment of the Eleventh Dynasty to the end of the Fourteenth Dynasty, between 2055 BC and 1650 BC, although some writers include the Thirteenth and Fourteenth dynasties in the Second Intermediate...
tombs at
Beni Hasan
Beni Hasan
Beni Hasan is an Ancient Egyptian cemetery site. It is located approximately 20 kilometers to the south of modern-day Minya in the region known as Middle Egypt, the area between Asyut and Memphis.While there are some Old Kingdom burials at the site, it was primarily used during the Middle...
. Even at that young age he was innovative in improving the methods of copying tomb decoration. In 1892 he worked under the tutelage of Flinders Petrie for one season at
Amarna
Amarna
Amarna is an extensive Egyptian archaeological site that represents the remains of the capital city newly–established and built by the Pharaoh Akhenaten of the late Eighteenth Dynasty , and abandoned shortly afterwards...
, the capital founded by the pharaoh
Akhenaten
Akhenaten
Akhenaten also spelled Echnaton,Ikhnaton,and Khuenaten;meaning "living spirit of Aten") known before the fifth year of his reign as Amenhotep IV , was a Pharaoh of the Eighteenth dynasty of Egypt who ruled for 17 years and died perhaps in 1336 BC or 1334 BC...
.