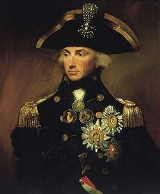 Horatio Nelson, 1st Viscount Nelson
Horatio Nelson, 1st Viscount Nelson, 1st Duke of Bronté
,
KB
Order of the Bath
The Most Honourable Order of the Bath is a British order of chivalry founded by George I on 18 May 1725. The name derives from the elaborate mediæval ceremony for creating a knight, which involved bathing as one of its elements. The knights so created were known as Knights of the Bath...
(29 September 1758 – 21 October 1805) was a
flag officer
Flag Officer
A flag officer is a commissioned officer in a nation's armed forces senior enough to be entitled to fly a flag to mark where the officer exercises command. The term usually refers to the senior officers in an English-speaking nation's navy, specifically those who hold any of the admiral ranks; in...
famous for his service in the
Royal Navy
Royal Navy
The Royal Navy is the naval warfare service branch of the British Armed Forces. Founded in the 16th century, it is the oldest service branch and is known as the Senior Service...
, particularly during the
Napoleonic Wars
Napoleonic Wars
The Napoleonic Wars were a series of wars declared against Napoleon's French Empire by opposing coalitions that ran from 1803 to 1815. As a continuation of the wars sparked by the French Revolution of 1789, they revolutionised European armies and played out on an unprecedented scale, mainly due to...
. He was noted for his inspirational leadership and superb grasp of strategy and unconventional tactics, which resulted in a number of decisive naval victories. He was wounded several times in combat, losing one arm and the sight in one eye.