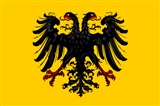 Habsburg Monarchy
The
Habsburg Monarchy
covered the territories ruled by the junior
Austria
Austria
Austria , officially the Republic of Austria , is a landlocked country of roughly 8.4 million people in Central Europe. It is bordered by the Czech Republic and Germany to the north, Slovakia and Hungary to the east, Slovenia and Italy to the south, and Switzerland and Liechtenstein to the...
n branch of the House of Habsburg (1278–1780), and then by the successor House of Habsburg-Lorraine (from 1780), between 1526 and 1867/1918. The Imperial capital was
Vienna
Vienna
Vienna is the capital and largest city of the Republic of Austria and one of the nine states of Austria. Vienna is Austria's primary city, with a population of about 1.723 million , and is by far the largest city in Austria, as well as its cultural, economic, and political centre...
, except from 1583 to 1611, when it was moved to
Prague
Prague
Prague is the capital and largest city of the Czech Republic. Situated in the north-west of the country on the Vltava river, the city is home to about 1.3 million people, while its metropolitan area is estimated to have a population of over 2.3 million...
. From 1804 to 1867 the Habsburgs ruled the
Austrian Empire
Austrian Empire
The Austrian Empire was a modern era successor empire, which was centered on what is today's Austria and which officially lasted from 1804 to 1867. It was followed by the Empire of Austria-Hungary, whose proclamation was a diplomatic move that elevated Hungary's status within the Austrian Empire...
and from 1867 to 1918
Austria-Hungary
Austria-Hungary
Austria-Hungary , more formally known as the Kingdoms and Lands Represented in the Imperial Council and the Lands of the Holy Hungarian Crown of Saint Stephen, was a constitutional monarchic union between the crowns of the Austrian Empire and the Kingdom of Hungary in...
.
The head of the House of Habsburg was usually also the ruler of the
Holy Roman Empire
Holy Roman Empire
The Holy Roman Empire was a realm that existed from 962 to 1806 in Central Europe.It was ruled by the Holy Roman Emperor. Its character changed during the Middle Ages and the Early Modern period, when the power of the emperor gradually weakened in favour of the princes...
from 1440 until its dissolution in 1806.