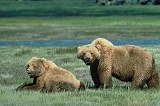 Grizzly Bear
The grizzly bear also known as the silvertip bear, the grizzly, or the North American brown bear, is a
subspecies
Subspecies
Subspecies in biological classification, is either a taxonomic rank subordinate to species, ora taxonomic unit in that rank . A subspecies cannot be recognized in isolation: a species will either be recognized as having no subspecies at all or two or more, never just one...
of
brown bear
Brown Bear
The brown bear is a large bear distributed across much of northern Eurasia and North America. It can weigh from and its largest subspecies, the Kodiak Bear, rivals the polar bear as the largest member of the bear family and as the largest land-based predator.There are several recognized...
(Ursus arctos) that generally lives in the uplands of western North America. This subspecies is thought to descend from
Ussuri brown bear
Ussuri Brown Bear
The Ussuri brown bear , also known as the black grizzly is a subspecies of the brown bear found in the Ussuri krai, Sakhalin, the Amur Oblast, northward to the Shantar Islands, Iturup Island, northeastern China, the Korean peninsula, Hokkaidō and Kunashiri Island. This subspecies is thought to be...
s which crossed to
Alaska
Alaska
Alaska is the largest state in the United States by area. It is situated in the northwest extremity of the North American continent, with Canada to the east, the Arctic Ocean to the north, and the Pacific Ocean to the west and south, with Russia further west across the Bering Strait...
from eastern
Russia
Russia
Russia or , officially known as both Russia and the Russian Federation , is a country in northern Eurasia. It is a federal semi-presidential republic, comprising 83 federal subjects...
100,000 years ago, though they did not move south until 13,000 years ago.
Grizzlies are normally solitary, active animals, but in
coast
Coast
A coastline or seashore is the area where land meets the sea or ocean. A precise line that can be called a coastline cannot be determined due to the dynamic nature of tides. The term "coastal zone" can be used instead, which is a spatial zone where interaction of the sea and land processes occurs...
al areas, the grizzly congregates alongside
stream
Stream
A stream is a body of water with a current, confined within a bed and stream banks. Depending on its locale or certain characteristics, a stream may be referred to as a branch, brook, beck, burn, creek, "crick", gill , kill, lick, rill, river, syke, bayou, rivulet, streamage, wash, run or...
s,
lake
Lake
A lake is a body of relatively still fresh or salt water of considerable size, localized in a basin, that is surrounded by land. Lakes are inland and not part of the ocean and therefore are distinct from lagoons, and are larger and deeper than ponds. Lakes can be contrasted with rivers or streams,...
s,
river
River
A river is a natural watercourse, usually freshwater, flowing towards an ocean, a lake, a sea, or another river. In a few cases, a river simply flows into the ground or dries up completely before reaching another body of water. Small rivers may also be called by several other names, including...
s, and ponds during the
salmon spawn
Salmon run
The salmon run is the time at which salmon swim back up the rivers in which they were born to spawn. All Pacific salmon die after spawning. While most Atlantic salmon die after their first spawn, about 5-10% return to the sea to feed between spawnings. The annual run is a major event for sport...
.