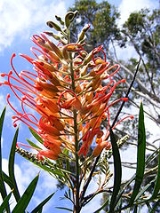 Grevillea
Grevillea
is a diverse
genus
Genus
In biology, a genus is a low-level taxonomic rank used in the biological classification of living and fossil organisms, which is an example of definition by genus and differentia...
of about 360 species of
evergreen
Evergreen
In botany, an evergreen plant is a plant that has leaves in all seasons. This contrasts with deciduous plants, which completely lose their foliage during the winter or dry season.There are many different kinds of evergreen plants, both trees and shrubs...
flowering plant
Flowering plant
The flowering plants , also known as Angiospermae or Magnoliophyta, are the most diverse group of land plants. Angiosperms are seed-producing plants like the gymnosperms and can be distinguished from the gymnosperms by a series of synapomorphies...
s in the protea family
Proteaceae
Proteaceae
Proteaceae is a family of flowering plants distributed in the Southern Hemisphere. The family comprises about 80 genera with about 1600 species. Together with the Platanaceae and Nelumbonaceae they make up the order Proteales. Well known genera include Protea, Banksia, Embothrium, Grevillea,...
, native to
Australia
Australia
Australia , officially the Commonwealth of Australia, is a country in the Southern Hemisphere comprising the mainland of the Australian continent, the island of Tasmania, and numerous smaller islands in the Indian and Pacific Oceans. It is the world's sixth-largest country by total area...
,
New Guinea
New Guinea
New Guinea is the world's second largest island, after Greenland, covering a land area of 786,000 km2. Located in the southwest Pacific Ocean, it lies geographically to the east of the Malay Archipelago, with which it is sometimes included as part of a greater Indo-Australian Archipelago...
,
New Caledonia
New Caledonia
New Caledonia is a special collectivity of France located in the southwest Pacific Ocean, east of Australia and about from Metropolitan France. The archipelago, part of the Melanesia subregion, includes the main island of Grande Terre, the Loyalty Islands, the Belep archipelago, the Isle of...
, and
Sulawesi
Sulawesi
Sulawesi is one of the four larger Sunda Islands of Indonesia and is situated between Borneo and the Maluku Islands. In Indonesia, only Sumatra, Borneo, and Papua are larger in territory, and only Java and Sumatra have larger Indonesian populations.- Etymology :The Portuguese were the first to...
. It was named in honour of
Charles Francis Greville
Charles Francis Greville
Charles Francis Greville PC, FRS , was a British antiquarian, collector and politician.-Background:Greville was the second son of Francis Greville, 1st Earl of Warwick, by Elizabeth Hamilton, daughter of Lord Archibald Hamilton...
. The species range from
prostrate
Prostrate shrub
A prostrate shrub is a woody plant, most of the branches of which lie upon or just under the ground, rather than being held erect as are the branches of most trees and shrubs....
shrub
Shrub
A shrub or bush is distinguished from a tree by its multiple stems and shorter height, usually under 5–6 m tall. A large number of plants may become either shrubs or trees, depending on the growing conditions they experience...
s less than 0.5 m tall to
tree
Tree
A tree is a perennial woody plant. It is most often defined as a woody plant that has many secondary branches supported clear of the ground on a single main stem or trunk with clear apical dominance. A minimum height specification at maturity is cited by some authors, varying from 3 m to...
s 35 m tall. Common names include
Grevillea
,
Spider Flower
,
Silky-oak
and
Toothbrush
.
Closely related to the genus
Hakea
Hakea
Hakea is a genus of 149 species of shrubs and small trees in the Proteaceae, native to Australia. They are found throughout the country, with the highest species diversity being found in the south west of Western Australia....
, the genus gives its name to the subfamily
Grevilleoideae
Grevilleoideae
Grevilleoideae is a subfamily of the Proteaceae family of flowering plants. Mainly restricted to the southern hemisphere, it contains around 44 genera and about 950 species. Genera include Banksia, Grevillea and Macadamia.-Description:...
.