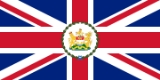 Governor
A
governor
is a governing official, usually the
executive
Executive (government)
Executive branch of Government is the part of government that has sole authority and responsibility for the daily administration of the state bureaucracy. The division of power into separate branches of government is central to the idea of the separation of powers.In many countries, the term...
(at least nominally, to different degrees also politically and administratively) of a non-sovereign level of government, ranking under the
head of state
Head of State
A head of state is the individual that serves as the chief public representative of a monarchy, republic, federation, commonwealth or other kind of state. His or her role generally includes legitimizing the state and exercising the political powers, functions, and duties granted to the head of...
. In
federation
Federation
A federation , also known as a federal state, is a type of sovereign state characterized by a union of partially self-governing states or regions united by a central government...
s, a governor may be the title of each appointed or elected
politician
Politician
A politician, political leader, or political figure is an individual who is involved in influencing public policy and decision making...
who governs a
constituent state
Constituent state
A constituent state, constituent entity, or constituent part, is a territorial and constitutional entity forming part of a sovereign state...
.
In countries, the heads of the constitutive states, provinces, communities and regions may be titled
Governor
, although this is less common in parliamentary systems such as in some European nations and many of their former colonies, which use titles such as
President of the Regional Council
in
France
France
The French Republic , The French Republic , The French Republic , (commonly known as France , is a unitary semi-presidential republic in Western Europe with several overseas territories and islands located on other continents and in the Indian, Pacific, and Atlantic oceans. Metropolitan France...
and
Ministerpräsident
in
Germany
Germany
Germany , officially the Federal Republic of Germany , is a federal parliamentary republic in Europe. The country consists of 16 states while the capital and largest city is Berlin. Germany covers an area of 357,021 km2 and has a largely temperate seasonal climate...
, where in some states there are governorates as sub-state administrative regions.
1587 Virginia Dare, granddaughter of governor John White of the Colony of Roanoke, becomes the first English child born in the Americas.
1749 New Governor Charles de la Ralière Des Herbiers arrives at Isle Royale (Cape Breton Island).
1810 Venezuela achieves home rule: Vicente Emparan, Governor of the Captaincy General is removed by the people of Caracas and a Junta is installed.
1857 Louis Faidherbe, French governor of Senegal, arrives to relieve French forces at Kayes, effectively ending El Hajj Umar Tall's war against the French.
1893 Women's suffrage: in New Zealand, the Electoral Act of 1893 is consented to by the governor giving all women in New Zealand the right to vote.
1900 Hawaii becomes a territory of the United States, with Sanford B. Dole as governor.
1913 New York Governor William Sulzer approves the charter for the Rockefeller Foundation, which begins operations with a $100 million donation from John D. Rockefeller.
1940 Chad becomes the first French colony to join the Allies under the administration of Félix Éboué, France's first black colonial governor.
1961 American civil rights movement: Alabama Governor John Malcolm Patterson declares martial law in an attempt to restore order after race riots break out.