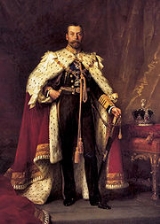 George V of the United Kingdom
George V
was
King of the United Kingdom
Monarchy of the United Kingdom
The monarchy of the United Kingdom is the constitutional monarchy of the United Kingdom and its overseas territories. The present monarch, Queen Elizabeth II, has reigned since 6 February 1952. She and her immediate family undertake various official, ceremonial and representational duties...
and the British Dominions, and
Emperor of India
Emperor of India
Emperor/Empress of India was used as a title by the last Mughal emperor Bahadur Shah II, and revived by the colonial British monarchs during the British Raj in India....
, from 6 May 1910 through the First World War (1914–1918) until his death in 1936.
George was a grandson of Queen Victoria and Prince Albert and the first cousin of Tsar Nicholas II of Russia and Kaiser Wilhelm II of Germany. From 1877 until 1891 he served in the
Royal Navy
Royal Navy
The Royal Navy is the naval warfare service branch of the British Armed Forces. Founded in the 16th century, it is the oldest service branch and is known as the Senior Service...
. On the death of Victoria in 1901, George's father became King Edward VII, and George was made
Prince of Wales
Prince of Wales
Prince of Wales is a title traditionally granted to the heir apparent to the reigning monarch of the United Kingdom of Great Britain and Northern Ireland and the 15 other independent Commonwealth realms...
.
1910 George V becomes King of the United Kingdom upon the death of his father, Edward VII.
1911 George V and Mary of Teck are crowned King and Queen of the United Kingdom of Great Britain and Ireland.
1911 King George V of the United Kingdom and Mary of Teck are enthroned as Emperor and Empress of India.
1913 Emily Davison, a suffragette, runs out in front of King George V's horse, Anmer, at the Epsom Derby. She is trampled, never regains consciousness and dies a few days later.
1917 King George V of the United Kingdom issues a Proclamation stating that the male line descendants of the British royal family will bear the surname Windsor.
1919 King George V of the United Kingdom proclaims Armistice Day (later Remembrance Day). The idea is first suggested by Edward George Honey.
1921 The Southwark Bridge in London, is opened for traffic by King George V and Queen Mary.
1922 At Windsor Castle, King George V receives the colours of the six Irish regiments that are to be disbanded – the Royal Irish Regiment, the Connaught Rangers, the South Irish Horse, the Prince of Wales's Leinster Regiment, the Royal Munster Fusiliers and the Royal Dublin Fusiliers.
No more coals to Newcastle, no more Hoares to Paris.

Said in December 1935 following the furore that erupted over the Hoare-Laval Pact|Hoare-Laval Pact.