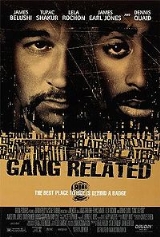 Gang Related (film)
Gang Related
is a neo-noir crime
film
Film
A film, also called a movie or motion picture, is a series of still or moving images. It is produced by recording photographic images with cameras, or by creating images using animation techniques or visual effects...
written and directed by
Jim Kouf
Jim Kouf
Jim Kouf is an American screenwriter, director, and producer. He received the 1988 Edgar Award for Best Motion Picture Screenplay for his work on Stakeout .-Filmography :...
which stars
Tupac Shakur
Tupac Shakur
Tupac Amaru Shakur , known by his stage names 2Pac and Makaveli, was an American rapper and actor. Shakur has sold over 75 million albums worldwide as of 2007, making him one of the best-selling music artists in the world...
and
James Belushi
James Belushi
James Adam "Jim" Belushi is an American actor, comedian, and musician. He is the younger brother of comic actor John Belushi.-Early life:Belushi was born in Chicago...
. The film revolves around two corrupt detectives who attempt to frame a homeless man for the murder of undercover
DEA
Drug Enforcement Administration
The Drug Enforcement Administration is a federal law enforcement agency under the United States Department of Justice, tasked with combating drug smuggling and use within the United States...
agent they themselves had killed. The film is also famous for being Tupac Shakur's last movie performance.
Plot summary
Renegade police detectives Frank Divinci (James Belushi) and Jake Rodriguez (Tupac Shakur) gun down narcotics dealer Lionel Hudd (
Kool Moe Dee
Kool Moe Dee
Mohandas Dewese , better known as Kool Moe Dee, is an American Hip Hop MC prominent in the late 1970s through the early 1990s. He was born in Manhattan, New York...
), after the three engage illegally in
drug traffic
Illegal drug trade
The illegal drug trade is a global black market, dedicated to cultivation, manufacture, distribution and sale of those substances which are subject to drug prohibition laws. Most jurisdictions prohibit trade, except under license, of many types of drugs by drug prohibition laws.A UN report said the...
king; this is in order to recover the
cocaine
Cocaine
Cocaine is a crystalline tropane alkaloid that is obtained from the leaves of the coca plant. The name comes from "coca" in addition to the alkaloid suffix -ine, forming cocaine. It is a stimulant of the central nervous system, an appetite suppressant, and a topical anesthetic...
Hudd purchased from them. When Divinci and Rodriguez find out Hudd was actually a "deep cover" DEA agent—because Hudd's partner (
Gary Cole
Gary Cole
Gary Michael Cole is an American actor. Cole is known for his supporting roles in numerous film and television productions since the 1990s.-Early life:...
) drops by their precinct for help sniffing out the killers—they try to frame anyone else with the murder. It doesn't help that Rodriguez has outstanding gambling debts, and that a huge man known only as "Mr. Cutlass Supreme" (Tiny Lister) is on his case for it.
After arresting numerous felons without success (because they cannot possibly link Hudd's murder to any of them), Divinci and Rodriguez arrest a homeless drunk by the name of Joe Doe (
Dennis Quaid
Dennis Quaid
Dennis William Quaid is an American actor known for his comedic and dramatic roles. First gaining widespread attention in the 1980s, his career rebounded in the 1990s after he overcame an addiction to drugs and an eating disorder...
). While Joe is still intoxicated, the detectives convince him that he shot Hudd. They even make him sign a confession.
At his first legal hearing, Joe is declared mentally unfit to stand trial (he can't even remember his own last name). The trial is postponed accordingly. At Joe's second hearing, high-profile lawyer Arthur Baylor (
James Earl Jones
James Earl Jones
James Earl Jones is an American actor. He is well-known for his distinctive bass voice and for his portrayal of characters of substance, gravitas and leadership...
) attends the proceedings. Baylor reveals that his client's name is actually William Dane McCall, that Joe is actually the missing-and-presumed-dead co-heir to the financial empire of a high-status family. Baylor asks the court to grant a one-week
continuance
Continuance
In American procedural law, a continuance is the postponement of a hearing, trial, or other scheduled court proceeding at the request of either or both parties in the dispute, or by the judge sua sponte. In response to delays in bringing cases to trial, some states have adopted "fast-track" rules...
so he can prepare his defense properly. The court agrees.
Divinci and Rodriguez convince local stripper Cynthia Webb (
Lela Rochon
Lela Rochon
Lela Rochon is an American actress who is best known for her role as Robin Stokes in the movie Waiting to Exhale....
), also Divinci's
mistress
Mistress (lover)
A mistress is a long-term female lover and companion who is not married to her partner; the term is used especially when her partner is married. The relationship generally is stable and at least semi-permanent; however, the couple does not live together openly. Also the relationship is usually,...
, who was the "bait" in their trap for Hudd, to "identify" Joe in a police line-up. Afterwards, she is summoned to testify in court. She disappears for a period of time, but is finally discovered and brought in for "The People VS. William Dane McCall." She gives her rehearsed testimony against Joe, at which time Joe informs Baylor that he lived in an alley next to Cynthia's apartment. Baylor questions Cynthia until she finally confesses to knowing Joe. The fact that she knows the defendant as "Joe" and not as "William Dane McCall" shows that she had previous knowledge of the defendant, thus making her testimony for Joe being Hudd's killer to be false. She is arrested for
perjury
Perjury
Perjury, also known as forswearing, is the willful act of swearing a false oath or affirmation to tell the truth, whether spoken or in writing, concerning matters material to a judicial proceeding. That is, the witness falsely promises to tell the truth about matters which affect the outcome of the...
while the verdict of Joe's case remains unknown.
Divinci and Rodriguez hire Manny, a
bail
Bail
Traditionally, bail is some form of property deposited or pledged to a court to persuade it to release a suspect from jail, on the understanding that the suspect will return for trial or forfeit the bail...
agent, to get Cynthia out of jail. They plan to kill her before she can testify. On the day she is to be "silenced," Rodriguez confesses to Divinci about feeling guilty regarding the numerous murders they've committed. Divinci suddenly suspects his partner of taping their conversation; such indeed turns out to be the case, after Divinci forcibly searches Rodriguez. Rodriguez informs Divinci that he has already confessed to the DEA regarding what they've done. Unwilling to kill Rodriguez here and now, Divinci renounces their friendship and drives off into the night. Rodriguez returns home to find his bookie, and Mr. Cutlass Supreme, waiting for him. Enraged about the preceding events, he attacks them only to be shot dead.
Cynthia, still in jail, strikes a deal with Baylor to testify against Divinci in return for her perjury case being dropped. Frank, upon hearing that Cynthia has confessed against him, breaks into her home. He shoots and wounds her. The dying Cynthia is rushed to an emergency room at the local hospital, where Dr. McCall prepares to operate on her and save her life.
Divinci makes arrangements with Manny to sneak out of the country. The driver Manny hires for Divinci turns out to be Clyde David Dunner, a murderer and arsonist...whose case was dropped because Divinci and Rodriguez, who had arrested him, stole his Magnum from the police-evidence room and used it to kill Hudd. Dunner pulls the same Magnum and shoots Frank.
Cast
Actor
Role
Tupac Shakur
Det. Jake Rodriguez
James Belushi
Det. Frank Divinci
Lela Rochon
Cynthia Webb
Dennis Quaid
William McCall/Joe Doe
James Earl Jones
Arthur Baylor
David Paymer

David Paymer

David Paymer is an American actor and television director, seen in such films as Quiz Show, Searching for Bobby Fischer, City Slickers, Crazy People, State and Main, Payback, Get Shorty, Carpool, The American President, Ocean's Thirteen, and Drag Me to Hell...



Elliot Goff
Wendy Crewson

Wendy Crewson

-Life and career:Crewson was born in Hamilton, Ontario, the daughter of June Doreen and Robert Binnie Crewson. She attended Queen's University in Kingston, Ontario, where she won the prestigious Lorne Greene Award for outstanding work in the theater. She then studied at the Webber Douglas Academy...



Helen Eden
Terrence "TC" Carson

Terrence C. Carson

Terrence C. Carson is an American singer and stage, film, and television actor. He is best known for portraying Kyle Barker on the FOX sitcom Living Single and Star Wars: The Clone Wars as the voice double for Samuel L. Jackson. He is also well known for voicing Kratos in the God of War series...



Manny Landrew
Kool Moe Dee
Lionel Hudd
Soundtrack
Year
Title
Chart positions
Certifications
(sales thresholds

Music recording sales certification

Music recording sales certification is a system of certifying that a music recording has shipped or sold a certain number of copies, where the threshold quantity varies by type and by nation or territory .Almost all countries follow variations of the RIAA certification categories,...


)
U.S.

Billboard 200

The Billboard 200 is a ranking of the 200 highest-selling music albums and EPs in the United States, published weekly by Billboard magazine. It is frequently used to convey the popularity of an artist or groups of artists...



U.S. R&B

Top R&B/Hip-Hop Albums

Top R&B/Hip-Hop Albums is a chart published by Billboard magazine that ranks R&B and hip hop albums based on sales compiled by Nielsen SoundScan. The name of the chart was changed from Top R&B Albums in 1999...



1997
Gang Related

Gang Related (soundtrack)

Gang Related is a double disc audio soundtrack for the film Gang Related, released on October 7, 1997, under Priority Records. It features four songs by the supporting actor Tupac Shakur. The album peaked at #2 on the Billboard Top 200 chart, and at #1 on the Billboard Top R&B/Hip-Hop Albums chart....




Released: October 7, 1997
Label: Death Row

Death Row Records

Death Row Records is a record label founded in 1991 by Marion "Suge" Knight Jr., Andre Young , Tracy Lynn Curry and Michael Harris . It is known to have been home to many popular West Coast hip hop artists such as Dr...




2
1
US

Recording Industry Association of America

The Recording Industry Association of America is a trade organization that represents the recording industry distributors in the United States...


: 2x Platinum
Dedication
Before the credits roll, the tribute "
Dedicated to Tupac Shakur (1971-1996)
" appears onscreen.