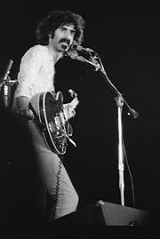 Frank Zappa
Frank Vincent Zappa
was an American composer, singer-songwriter, electric guitarist, record producer and film director. In a career spanning more than 30 years, Zappa wrote rock,
jazz
Jazz
Jazz is a musical style that originated at the beginning of the 20th century in African American communities in the Southern United States. It was born out of a mix of African and European music traditions. From its early development until the present, jazz has incorporated music from 19th and 20th...
, orchestral and
musique concrète
Musique concrète
Musique concrète is a form of electroacoustic music that utilises acousmatic sound as a compositional resource. The compositional material is not restricted to the inclusion of sounds derived from musical instruments or voices, nor to elements traditionally thought of as "musical"...
works. He also directed feature-length films and music videos, and designed album covers. Zappa produced almost all of the more than 60 albums he released with the band
The Mothers of Invention
The Mothers of Invention
The Mothers of Invention were an American band active from 1964 to 1969, and again from 1970 to 1975.They mainly performed works by, and were the original recording group of, US composer and guitarist Frank Zappa , although other members have had the occasional writing credit...
and as a solo artist.
While in his teens, he acquired a taste for percussion-based
avant-garde
Avant-garde music
Avant-garde music is a term used to characterize music which is thought to be ahead of its time, i.e. containing innovative elements or fusing different genres....
composers such as
Edgard Varèse
Edgard Varèse
Edgard Victor Achille Charles Varèse, , whose name was also spelled Edgar Varèse , was an innovative French-born composer who spent the greater part of his career in the United States....
and 1950s
rhythm and blues
Rhythm and blues
Rhythm and blues, often abbreviated to R&B, is a genre of popular African American music that originated in the 1940s. The term was originally used by record companies to describe recordings marketed predominantly to urban African Americans, at a time when "urbane, rocking, jazz based music with a...
music.
Remember there's a big difference between kneeling down and bending over.

Heavenly Bank Account (1981)