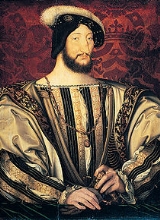 Francis I of France
Francis I
(12 September 1494 – 31 March 1547) was King of France from 1515 until his death. During his reign, huge cultural changes took place in France and he has been called France's original
Renaissance
Renaissance
The Renaissance was a cultural movement that spanned roughly the 14th to the 17th century, beginning in Italy in the Late Middle Ages and later spreading to the rest of Europe. The term is also used more loosely to refer to the historical era, but since the changes of the Renaissance were not...
monarch. His permanent rivalry with the Emperor Charles V for
hegemony
Hegemony
Hegemony is an indirect form of imperial dominance in which the hegemon rules sub-ordinate states by the implied means of power rather than direct military force. In Ancient Greece , hegemony denoted the politico–military dominance of a city-state over other city-states...
in Europe was the origin of a long and ruinous military conflict that gave rise to the
Protestant revolution
Protestant Reformation
The Protestant Reformation was a 16th-century split within Western Christianity initiated by Martin Luther, John Calvin and other early Protestants. The efforts of the self-described "reformers", who objected to the doctrines, rituals and ecclesiastical structure of the Roman Catholic Church, led...
.
Francis was an ally of
Suleiman the Magnificent
Suleiman the Magnificent
Suleiman I was the tenth and longest-reigning Sultan of the Ottoman Empire, from 1520 to his death in 1566. He is known in the West as Suleiman the Magnificent and in the East, as "The Lawgiver" , for his complete reconstruction of the Ottoman legal system...
, with whom he formed the
Franco-Ottoman alliance
Franco-Ottoman alliance
The Franco-Ottoman alliance, also Franco-Turkish alliance, was an alliance established in 1536 between the king of France Francis I and the Turkish ruler of the Ottoman Empire Suleiman the Magnificent. The alliance has been called "the first non-ideological diplomatic alliance of its kind between a...
.
1515 King Francis I of France succeeds to the French throne.
1516 The Treaty of Noyon between France and Spain is signed. Francis I of France recognises Charles's claim to Naples, and Charles V, Holy Roman Emperor recognises Francis's claim to Milan.
1532 Henry VIII and François I sign a secret treaty against Emperor Charles V.
1534 French explorer Jacques Cartier plants a cross on the Gaspé Peninsula and takes possession of the territory in the name of Francis I of France.
1539 Treaty of Toledo signed by King Francis I of France and Holy Roman Emperor Charles V.