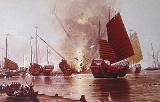 First Opium War
The
First Anglo-Chinese War
(1839–42), known popularly as the
First Opium War
or simply the
Opium War
, was fought between the
United Kingdom
United Kingdom of Great Britain and Ireland
The United Kingdom of Great Britain and Ireland was the formal name of the United Kingdom during the period when what is now the Republic of Ireland formed a part of it....
and the
Qing Dynasty
Qing Dynasty
The Qing Dynasty was the last dynasty of China, ruling from 1644 to 1912 with a brief, abortive restoration in 1917. It was preceded by the Ming Dynasty and followed by the Republic of China....
of China over their conflicting viewpoints on diplomatic relations, trade, and the administration of justice. Chinese officials wished to stop what was perceived as an outflow of silver and to control the spread of
opium
Opium
Opium is the dried latex obtained from the opium poppy . Opium contains up to 12% morphine, an alkaloid, which is frequently processed chemically to produce heroin for the illegal drug trade. The latex also includes codeine and non-narcotic alkaloids such as papaverine, thebaine and noscapine...
, and confiscated supplies of opium from British traders.