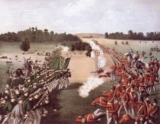 Fenian raids
Between 1866 and 1871, the
Fenian raids
of the
Fenian Brotherhood
Fenian Brotherhood
The Fenian Brotherhood was an Irish republican organization founded in the United States in 1858 by John O'Mahony and Michael Doheny. It was a precursor to Clan na Gael, a sister organization to the Irish Republican Brotherhood. Members were commonly known as "Fenians"...
who were based in the
United States
United States
The United States of America is a federal constitutional republic comprising fifty states and a federal district...
; on
British army
British Army
The British Army is the land warfare branch of Her Majesty's Armed Forces in the United Kingdom. It came into being with the unification of the Kingdom of England and Scotland into the Kingdom of Great Britain in 1707. The new British Army incorporated Regiments that had already existed in England...
forts, customs posts and other targets in
Canada
Canada
Canada is a North American country consisting of ten provinces and three territories. Located in the northern part of the continent, it extends from the Atlantic Ocean in the east to the Pacific Ocean in the west, and northward into the Arctic Ocean...
, were fought to bring pressure on
Britain
United Kingdom of Great Britain and Ireland
The United Kingdom of Great Britain and Ireland was the formal name of the United Kingdom during the period when what is now the Republic of Ireland formed a part of it....
to withdraw from
Ireland
Ireland
Ireland is an island to the northwest of continental Europe. It is the third-largest island in Europe and the twentieth-largest island on Earth...
. They divided many Catholic Irish-Canadians, many of whom were torn between loyalty to their new home and sympathy for the aims of the
Fenian
Fenian
The Fenians , both the Fenian Brotherhood and Irish Republican Brotherhood , were fraternal organisations dedicated to the establishment of an independent Irish Republic in the 19th and early 20th century. The name "Fenians" was first applied by John O'Mahony to the members of the Irish republican...
s. The Protestant Irish were generally loyal to Britain and fought with the
Orange Order
Orange Institution
The Orange Institution is a Protestant fraternal organisation based mainly in Northern Ireland and Scotland, though it has lodges throughout the Commonwealth and United States. The Institution was founded in 1796 near the village of Loughgall in County Armagh, Ireland...
against the Fenians.