 Erythraean Sea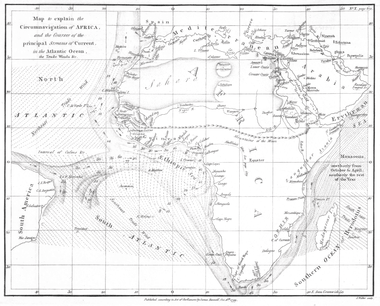 The
Erythraean Sea
is one of the names found in ancient
cartography
Cartography
Cartography is the study and practice of making maps. Combining science, aesthetics, and technique, cartography builds on the premise that reality can be modeled in ways that communicate spatial information effectively.The fundamental problems of traditional cartography are to:*Set the map's...
. This name may have derived from the seasonal blooms of the red-coloured
Trichodesmium erythraeum
Trichodesmium
Trichodesmium, also called sea sawdust, is a genus of filamentous cyanobacteria. They are found in nutrient poor tropical and subtropical ocean waters . Trichodesmium fixes atmospheric nitrogen into ammonium, usable also for other organisms...
near the water's surface, as the Greek "Ερυθρά" actually means "red".
In the third century, Flavius Philostratus made this comment: "And they say that the sea called Erythra or "red" is of a deep blue colour, but that it was so named, as I said before, from a King Erythras, who gave his own name to the sea in question."
Use of the name
The name 'Erythraean Sea' has been or is still used for the following places: