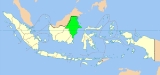 East Kalimantan
East Kalimantan
is the second largest
Indonesian province
Provinces of Indonesia
The province is the highest tier of local government subnational entity in Indonesia. Each province has its own local government, headed by a governor, and has its own legislative body...
, located on the
Kalimantan
Kalimantan
In English, the term Kalimantan refers to the Indonesian portion of the island of Borneo, while in Indonesian, the term "Kalimantan" refers to the whole island of Borneo....
region on the east of
Borneo
Borneo
Borneo is the third largest island in the world and is located north of Java Island, Indonesia, at the geographic centre of Maritime Southeast Asia....
island. The resource-rich province has two major cities,
Samarinda
Samarinda
Samarinda is the capital of the Indonesian province of East Kalimantan on the island of Borneo. The city lies on the banks of the Mahakam River. It is the most populous city in East Kalimantan with a population of 726,223...
(the capital and a center for
timber
Timber
Timber may refer to:* Timber, a term common in the United Kingdom and Australia for wood materials * Timber, Oregon, an unincorporated community in the U.S...
product) and
Balikpapan
Balikpapan
Balikpapan is a seaport city on the eastern coast of the island of Borneo, Indonesia, in the East Kalimantan province, a resource-rich region well known for its timber, mining, and petroleum export products. Two harbors, Semayang and Kariangau , and the Sepinggan International Airport are the main...
(a
petroleum
Petroleum
Petroleum or crude oil is a naturally occurring, flammable liquid consisting of a complex mixture of hydrocarbons of various molecular weights and other liquid organic compounds, that are found in geologic formations beneath the Earth's surface. Petroleum is recovered mostly through oil drilling...
center with oil refinery). Ever since Indonesia opened its mineral and natural resources for foreign investment in 1970s, East Kalimantan province has experienced major boost of timber, petroleum and other exotic forest products.