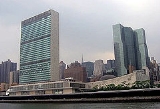 Diplomacy
Diplomacy
is the art and practice of conducting
negotiation
Negotiation
Negotiation is a dialogue between two or more people or parties, intended to reach an understanding, resolve point of difference, or gain advantage in outcome of dialogue, to produce an agreement upon courses of action, to bargain for individual or collective advantage, to craft outcomes to satisfy...
s between representatives of groups or states. It usually refers to international diplomacy, the conduct of
international relations
International relations
International relations is the study of relationships between countries, including the roles of states, inter-governmental organizations , international nongovernmental organizations , non-governmental organizations and multinational corporations...
through the intercession of professional diplomats with regard to issues of peace-making, trade,
war
War
War is a state of organized, armed, and often prolonged conflict carried on between states, nations, or other parties typified by extreme aggression, social disruption, and usually high mortality. War should be understood as an actual, intentional and widespread armed conflict between political...
,
economics
Economics
Economics is the social science that analyzes the production, distribution, and consumption of goods and services. The term economics comes from the Ancient Greek from + , hence "rules of the house"...
,
culture
Culture
Culture is a term that has many different inter-related meanings. For example, in 1952, Alfred Kroeber and Clyde Kluckhohn compiled a list of 164 definitions of "culture" in Culture: A Critical Review of Concepts and Definitions...
,
environment
Environmental policy
Environmental policy is any [course of] action deliberately taken [or not taken] to manage human activities with a view to prevent, reduce, or mitigate harmful effects on nature and natural resources, and ensuring that man-made changes to the environment do not have harmful effects on...
and
human rights
Human rights
Human rights are "commonly understood as inalienable fundamental rights to which a person is inherently entitled simply because she or he is a human being." Human rights are thus conceived as universal and egalitarian . These rights may exist as natural rights or as legal rights, in both national...
. International
treaties
Treaty
A treaty is an express agreement under international law entered into by actors in international law, namely sovereign states and international organizations. A treaty may also be known as an agreement, protocol, covenant, convention or exchange of letters, among other terms...
are usually negotiated by diplomats prior to endorsement by national
politician
Politician
A politician, political leader, or political figure is an individual who is involved in influencing public policy and decision making...
s. In an informal or social sense, diplomacy is the employment of tact to gain
strategic advantage
Strategy
Strategy, a word of military origin, refers to a plan of action designed to achieve a particular goal. In military usage strategy is distinct from tactics, which are concerned with the conduct of an engagement, while strategy is concerned with how different engagements are linked...
or to find mutually acceptable solutions to a common challenge, one set of tools being the phrasing of statements in a non-confrontational, or polite manner.
The scholarly discipline of
diplomatics
Diplomatics
Diplomatics , or Diplomatic , is the study that revolves around documentation. It is a study that focuses on the analysis of document creation, its inner constitutions and form, the means of transmitting information, and the relationship documented facts have with their creator...
, dealing with the study of old documents, derives its name from the same source, but its modern meaning is quite distinct from the activity of diplomacy.
One of the earliest realists in
international relations theory
International relations theory
International relations theory is the study of international relations from a theoretical perspective; it attempts to provide a conceptual framework upon which international relations can be analyzed. Ole Holsti describes international relations theories act as a pair of coloured sunglasses,...
was the 6th century BC military strategist
Sun Tzu
Sun Tzu
Sun Wu , style name Changqing , better known as Sun Tzu or Sunzi , was an ancient Chinese military general, strategist and philosopher who is traditionally believed, and who is most likely, to have authored The Art of War, an influential ancient Chinese book on military strategy...
(d.
An ethical foreign policy means helping them up after you've knocked them down.

Leonid S. Sukhorukov, All About Everything (2005)
Diplomacy is to do and sayThe nastiest things in the nicest way.

Isaac Goldberg|Isaac Goldberg, The Reflex
May the pens of the diplomats not ruin again what the people have attained with such exertions.

Gebhard Leberecht von Blücher|Gebhard Leberecht von Blücher, After the Battle of Waterloo (1815)