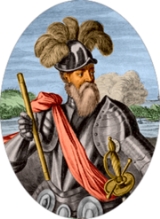 Conquistador
Conquistadors
were Spanish soldiers, explorers, and adventurers who brought much of the Americas under the control of Spain in the 15th to 16th centuries, following Europe's discovery of the
New World
New World
The New World is one of the names used for the Western Hemisphere, specifically America and sometimes Oceania . The term originated in the late 15th century, when America had been recently discovered by European explorers, expanding the geographical horizon of the people of the European middle...
by
Christopher Columbus
Christopher Columbus
Christopher Columbus was an explorer, colonizer, and navigator, born in the Republic of Genoa, in northwestern Italy. Under the auspices of the Catholic Monarchs of Spain, he completed four voyages across the Atlantic Ocean that led to general European awareness of the American continents in the...
in 1492. The two perhaps most famous conquistadors were
Hernán Cortés
Hernán Cortés
Hernán Cortés de Monroy y Pizarro, 1st Marquis of the Valley of Oaxaca was a Spanish Conquistador who led an expedition that caused the fall of the Aztec Empire and brought large portions of mainland Mexico under the rule of the King of Castile in the early 16th century...
who conquered the Aztec Empire and
Francisco Pizarro
Francisco Pizarro
Francisco Pizarro González, Marquess was a Spanish conquistador, conqueror of the Incan Empire, and founder of Lima, the modern-day capital of the Republic of Peru.-Early life:...
who led the conquest of the Incan Empire. They were second cousins and both of them were born in
Extremadura
Extremadura
Extremadura is an autonomous community of western Spain whose capital city is Mérida. Its component provinces are Cáceres and Badajoz. It is bordered by Portugal to the west...
as well as many of the conquerors who were from Spain.
Conquistadors in the Americas resembled a volunteer militia more than than a regular organized military in that they had to supply their own materials, weapons and horses.