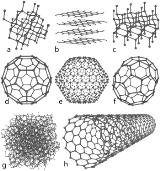 Carbon
Carbon
ˈ is the
chemical element
Chemical element
A chemical element is a pure chemical substance consisting of one type of atom distinguished by its atomic number, which is the number of protons in its nucleus. Familiar examples of elements include carbon, oxygen, aluminum, iron, copper, gold, mercury, and lead.As of November 2011, 118 elements...
with symbol
C
and
atomic number
Atomic number
In chemistry and physics, the atomic number is the number of protons found in the nucleus of an atom and therefore identical to the charge number of the nucleus. It is conventionally represented by the symbol Z. The atomic number uniquely identifies a chemical element...
6. As a member of group 14 on the
periodic table
Periodic table
The periodic table of the chemical elements is a tabular display of the 118 known chemical elements organized by selected properties of their atomic structures. Elements are presented by increasing atomic number, the number of protons in an atom's atomic nucleus...
, it is
nonmetal
Nonmetal
Nonmetal, or non-metal, is a term used in chemistry when classifying the chemical elements. On the basis of their general physical and chemical properties, every element in the periodic table can be termed either a metal or a nonmetal...
lic and
tetravalent
Tetravalence
In chemistry, a tetravalence is the state of an atom with four electrons available for covalent chemical bonding in its valence . An example is methane : the tetravalent carbon atom forms a covalent bond with four hydrogen atoms...
—making four electrons available to form
covalent
Covalent bond
A covalent bond is a form of chemical bonding that is characterized by the sharing of pairs of electrons between atoms. The stable balance of attractive and repulsive forces between atoms when they share electrons is known as covalent bonding....
chemical bonds. There are three naturally occurring isotopes, with
12C
Carbon-12
Carbon-12 is the more abundant of the two stable isotopes of the element carbon, accounting for 98.89% of carbon; it contains 6 protons, 6 neutrons, and 6 electrons....
and
13C
Carbon-13
Carbon-13 is a natural, stable isotope of carbon and one of the environmental isotopes. It makes up about 1.1% of all natural carbon on Earth.- Detection by mass spectrometry :...
being stable, while
14C
Carbon-14
Carbon-14, 14C, or radiocarbon, is a radioactive isotope of carbon with a nucleus containing 6 protons and 8 neutrons. Its presence in organic materials is the basis of the radiocarbon dating method pioneered by Willard Libby and colleagues , to date archaeological, geological, and hydrogeological...
is radioactive, decaying with a
half-life
Half-life
Half-life, abbreviated t½, is the period of time it takes for the amount of a substance undergoing decay to decrease by half. The name was originally used to describe a characteristic of unstable atoms , but it may apply to any quantity which follows a set-rate decay.The original term, dating to...
of about 5,730 years. Carbon is one of the
few elements known since antiquity
Discoveries of the chemical elements
The discovery of the elements known to exist today is presented here in chronological order. The elements are listed generally in the order in which each was first defined as the pure element, as the exact date of discovery of most elements cannot be accurately defined.Given is each element's name,...
.
There are several
allotropes of carbon
Allotropes of carbon
This is a list of the allotropes of carbon.-Diamond:Diamond is one of the most well known allotropes of carbon. The hardness and high dispersion of light of diamond make it useful for both industrial applications and jewellery. Diamond is the hardest known natural mineral. This makes it an...
of which the best known are
graphite
Graphite
The mineral graphite is one of the allotropes of carbon. It was named by Abraham Gottlob Werner in 1789 from the Ancient Greek γράφω , "to draw/write", for its use in pencils, where it is commonly called lead . Unlike diamond , graphite is an electrical conductor, a semimetal...
,
diamond
Diamond
In mineralogy, diamond is an allotrope of carbon, where the carbon atoms are arranged in a variation of the face-centered cubic crystal structure called a diamond lattice. Diamond is less stable than graphite, but the conversion rate from diamond to graphite is negligible at ambient conditions...
, and
amorphous carbon
Amorphous carbon
Amorphous carbon or free, reactive carbon, is an allotrope of carbon that does not have any crystalline structure. As with all glassy materials, some short-range order can be observed...
.