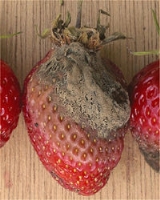 Botrytis cinerea
Botrytis cinerea
is a necrotrophic
fungus
Fungus
A fungus is a member of a large group of eukaryotic organisms that includes microorganisms such as yeasts and molds , as well as the more familiar mushrooms. These organisms are classified as a kingdom, Fungi, which is separate from plants, animals, and bacteria...
that affects many plant species, although its most notable hosts may be wine grapes. In
viticulture
Viticulture
Viticulture is the science, production and study of grapes which deals with the series of events that occur in the vineyard. When the grapes are used for winemaking, it is also known as viniculture...
, it is commonly known as
botrytis bunch rot
; in
horticulture
Horticulture
Horticulture is the industry and science of plant cultivation including the process of preparing soil for the planting of seeds, tubers, or cuttings. Horticulturists work and conduct research in the disciplines of plant propagation and cultivation, crop production, plant breeding and genetic...
, it is usually called
grey mould
or
gray mold
.
The fungus gives rise to two different kinds of infections on grapes. The first, grey rot, is the result of consistently wet or humid conditions, and typically results in the loss of the affected bunches. The second,
noble rot
Noble rot
Noble rot is the benevolent form of a grey fungus, Botrytis cinerea, affecting wine grapes. Infestation by Botrytis requires moist conditions, and if the weather stays wet, the malevolent form, "grey rot", can destroy crops of grapes...
, occurs when drier conditions follow wetter, and can result in distinctive sweet
dessert wine
Dessert wine
Dessert wines are sweet wines typically served with dessert.There is no simple definition of a dessert wine. In the UK, a dessert wine is considered to be any sweet wine drunk with a meal, as opposed to the white fortified wines drunk before the meal, and the red fortified wines drunk after it...
s, such as
Sauternes
Sauternes (wine)
Sauternes is a French sweet wine from the Sauternais region of the Graves section in Bordeaux. Sauternes is made from Sémillon, Sauvignon Blanc, and Muscadelle grapes that have been affected by Botrytis cinerea, also known as noble rot. This causes the grapes to become partially raisined,...
or the Aszú of
Tokaji
Tokaji
Tokaji is the name of the wines from the region of Tokaj-Hegyalja in Hungary and Slovakia. The name Tokaji is used for labeling wines from this wine district. This region is noted for its sweet wines made from grapes affected by noble rot, a style of wine which has a long history in this region...
. The species name
Botrytis cinerea
is derived from the
Latin
Latin
Latin is an Italic language originally spoken in Latium and Ancient Rome. It, along with most European languages, is a descendant of the ancient Proto-Indo-European language. Although it is considered a dead language, a number of scholars and members of the Christian clergy speak it fluently, and...
for "grapes like ashes"; although poetic, the "grapes" ("botrytis" from Ancient Greek
botrys (βότρυς)
meaning "grapes" plus the Neolatin suffix
-itis
for disease) refers to the bunching of the fungal spores on their conidiophores, and "ashes" just refers to the greyish colour of the spores
en masse
. The fungus is usually referred to by its anamorph (asexual form) name, because the sexual phase is rarely observed. The teleomorph (sexual form) is an ascomycete,
Botryotinia fuckeliana
Botryotinia fuckeliana
Botryotinia fuckeliana is a plant pathogen, and the causal agent of gray mold disease.The specific epithet was named by mycologist Heinrich Anton de Bary in honor of another mycologist, Karl Wilhelm Gottlieb Leopold Fuckel....
, also known as
Botryotinia cinerea
(see taxonomy box).
Biology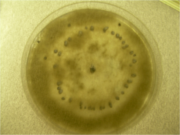 Botrytis cinerea
is characterized by abundant hyaline
conida
Fungus
A fungus is a member of a large group of eukaryotic organisms that includes microorganisms such as yeasts and molds , as well as the more familiar mushrooms. These organisms are classified as a kingdom, Fungi, which is separate from plants, animals, and bacteria...
(asexual spores) borne on grey, branching tree-like conidiophores. The fungus also produces highly resistant
sclerotia
Sclerotium
A sclerotium is a compact mass of hardened fungal mycelium containing food reserves. One role of sclerotia is to survive environmental extremes. In some higher fungi such as ergot, sclerotia become detached and remain dormant until a favorable opportunity for growth. Other fungi that produce...
as survival structures in older cultures. It overwinters as sclerotia or intact mycelia, both of which germinate in spring to produce conidiophores. The conidia are dispersed by wind and rain-water and cause new infections.
A considerable genetic variability has been observed in different
Botrytis cinerea
strains
Strain (biology)
In biology, a strain is a low-level taxonomic rank used in three related ways.-Microbiology and virology:A strain is a genetic variant or subtype of a micro-organism . For example, a "flu strain" is a certain biological form of the influenza or "flu" virus...
(
polyploidy
Polyploidy
Polyploid is a term used to describe cells and organisms containing more than two paired sets of chromosomes. Most eukaryotic species are diploid, meaning they have two sets of chromosomes — one set inherited from each parent. However polyploidy is found in some organisms and is especially common...
).
Gliocladium roseum
is a fungal parasite of
Botrytis cinerea
.
Viticulture
In the
Botrytis
infection known as "noble rot" (
pourriture noble
in
French
French language
French is a Romance language spoken as a first language in France, the Romandy region in Switzerland, Wallonia and Brussels in Belgium, Monaco, the regions of Quebec and Acadia in Canada, and by various communities elsewhere. Second-language speakers of French are distributed throughout many parts...
, or
Edelfäule
in
German
German language
German is a West Germanic language, related to and classified alongside English and Dutch. With an estimated 90 – 98 million native speakers, German is one of the world's major languages and is the most widely-spoken first language in the European Union....
), the fungus removes water from the grapes, leaving behind a higher percent of solids, such as sugars, fruit acids and minerals. This results in a more intense, concentrated final product. The wine is often said to have an aroma of
honeysuckle
Honeysuckle
Honeysuckles are arching shrubs or twining vines in the family Caprifoliaceae, native to the Northern Hemisphere. There are about 180 species of honeysuckle, 100 of which occur in China; Europe, India and North America have only about 20 native species each...
and a bitter finish on the palate.
Botrytis
complicates winemaking by making
fermentation
Fermentation (wine)
The process of fermentation in wine turns grape juice into an alcoholic beverage. During fermentation, yeast interact with sugars in the juice to create ethanol, commonly known as ethyl alcohol, and carbon dioxide...
more complex.
Botrytis
produces an anti-fungal that kills yeast and often results in fermentation stopping before the wine has accumulated sufficient levels of alcohol. Makers of fine German dessert wines have been known to take fermenting tubs of wine into their homes to nurture the yeast through the night to assure that the alcohol level reaches legal minimums for the product to be called wine.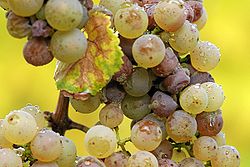 Botrytis bunch rot is another condition of grapes caused by
Botrytis cinerea
that causes great losses for the wine industry. It is always present on the fruitset, however, it requires a wound to start a bunch rot infection. Wounds can come from insects, wind, accidental damage, etc. To control botrytis bunch rot there are a number of fungicides available on the market. Generally, these should be applied at bloom, bunch closure and veraison (the most important being the bloom application). Some winemakers are known to use the German method of fermentation and prefer having a 5% bunch rot rate in their grapes and will usually hold the grapes on the vine a week longer than normal.
Horticulture
Botrytis cinerea
affects many other plants. It is economically important on soft fruits such as
strawberries
Strawberry
Fragaria is a genus of flowering plants in the rose family, Rosaceae, commonly known as strawberries for their edible fruits. Although it is commonly thought that strawberries get their name from straw being used as a mulch in cultivating the plants, the etymology of the word is uncertain. There...
and bulb crops. Unlike wine grapes, the affected strawberries are not edible and are discarded. To minimize infection in strawberry fields, good ventilation around the berries is important to prevent moisture being trapped among leaves and berries. This is accomplished by slightly elevating the strawberry plants from the soil using
straw
Straw
Straw is an agricultural by-product, the dry stalks of cereal plants, after the grain and chaff have been removed. Straw makes up about half of the yield of cereal crops such as barley, oats, rice, rye and wheat. It has many uses, including fuel, livestock bedding and fodder, thatching and...
, rather than planting them directly on the ground. In greenhouse horticulture,
Botrytis cinerea
is well-known cause for considerable damage in
tomato
Tomato
The word "tomato" may refer to the plant or the edible, typically red, fruit which it bears. Originating in South America, the tomato was spread around the world following the Spanish colonization of the Americas, and its many varieties are now widely grown, often in greenhouses in cooler...
.
The infection also affects
rhubarb
Rhubarb
Rhubarb is a group of plants that belong to the genus Rheum in the family Polygonaceae. They are herbaceous perennial plants growing from short, thick rhizomes. They have large leaves that are somewhat triangular-shaped with long fleshy petioles...
and
Snowdrop
Snowdrop
Galanthus is a small genus of about 20 species of bulbous herbaceous plants in the Amaryllis family, subfamily Amaryllidoideae...
s.
Human disease
Botrytis cinerea
mold on grapes may cause "
winegrower's lung
", a rare form of
hypersensitivity pneumonitis
Hypersensitivity pneumonitis
Hypersensitivity pneumonitis is an inflammation of the alveoli within the lung caused by hypersensitivity to inhaled organic dusts. Sufferers are commonly exposed to the dust by their occupation or hobbies.-Pathophysiology:Hypersensitivity pneumonitis involves inhalation of an antigen...
(a respiratory allergic reaction in predisposed individuals).
External links