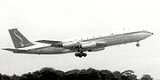 Boeing 707
The
Boeing 707
is a four-engine
narrow-body
Narrow-body aircraft
A narrow-body aircraft is an airliner with a fuselage aircraft cabin width typically of 3 to 4 metres , and airline seat arranged 2 to 6 abreast along a single aisle...
commercial passenger
jet airliner
Jet airliner
A jet airliner is an airliner that is powered by jet engines. This term is sometimes contracted to jetliner or jet.In contrast to today's relatively fuel-efficient, turbofan-powered air travel, first generation jet airliner travel was noisy and fuel inefficient...
developed by
Boeing
Boeing Commercial Airplanes
Boeing Commercial Airplanes designs, assembles, markets and sells large commercial jet aircraft and provides product-related maintenance and training to customers worldwide...
in the early 1950s. Its name is most commonly pronounced as "Seven Oh Seven". The first airline to operate the 707 was
Pan American World Airways
Pan American World Airways
Pan American World Airways, commonly known as Pan Am, was the principal and largest international air carrier in the United States from 1927 until its collapse on December 4, 1991...
, inaugurating the type's first commercial flight on October 26, 1958. Boeing delivered a total of 1,011 Boeing 707s including a smaller, faster model of the aircraft that was marketed as the
Boeing 720
Boeing 720
The Boeing 720 is a four-engine narrow-body short- to medium-range passenger jet airliner. Developed by Boeing in the late 1950s from the Boeing 707, the 720 has a shorter fuselage and less range...
.
Although it was not the
first commercial
De Havilland Comet
The de Havilland DH 106 Comet was the world's first commercial jet airliner to reach production. Developed and manufactured by de Havilland at the Hatfield, Hertfordshire, United Kingdom headquarters, it first flew in 1949 and was a landmark in aeronautical design...
jet
Jet aircraft
A jet aircraft is an aircraft propelled by jet engines. Jet aircraft generally fly much faster than propeller-powered aircraft and at higher altitudes – as high as . At these altitudes, jet engines achieve maximum efficiency over long distances. The engines in propeller-powered aircraft...
in service, the 707 was among the first to be commercially successful.