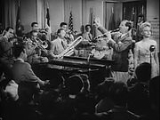 Benny Goodman
Benjamin David "Benny" Goodman
(May 30, 1909 – June 13, 1986) was an American
jazz
Jazz
Jazz is a musical style that originated at the beginning of the 20th century in African American communities in the Southern United States. It was born out of a mix of African and European music traditions. From its early development until the present, jazz has incorporated music from 19th and 20th...
and
swing
Swing (genre)
Swing music, also known as swing jazz or simply swing, is a form of jazz music that developed in the early 1930s and became a distinctive style by 1935 in the United States...
musician, clarinetist and
bandleader
Bandleader
A bandleader is the leader of a band of musicians. The term is most commonly, though not exclusively, used with a group that plays popular music as a small combo or a big band, such as one which plays jazz, blues, rhythm and blues or rock and roll music....
; widely known as the "King of Swing".
In the mid-1930s, Benny Goodman led one of the most popular musical groups in America. His January 16, 1938 concert at
Carnegie Hall
Carnegie Hall
Carnegie Hall is a concert venue in Midtown Manhattan in New York City, United States, located at 881 Seventh Avenue, occupying the east stretch of Seventh Avenue between West 56th Street and West 57th Street, two blocks south of Central Park....
in New York City is described by critic Bruce Eder as "the single most important jazz or popular music concert in history: jazz's 'coming out' party to the world of 'respectable' music."
Goodman's bands launched the careers of many major names in jazz, and during an era of
segregation
Racial segregation
Racial segregation is the separation of humans into racial groups in daily life. It may apply to activities such as eating in a restaurant, drinking from a water fountain, using a public toilet, attending school, going to the movies, or in the rental or purchase of a home...
, he also led one of the first now well known racially-integrated jazz groups.