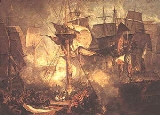 Battle of Trafalgar
The
Battle of Trafalgar
(21 October 1805) was a
sea battle
Naval battle
A naval battle is a battle fought using boats, ships or other waterborne vessels. Most naval battles have occurred at sea, but a few have taken place on lakes or rivers. The earliest recorded naval battle took place in 1210 BC near Cyprus...
fought between the British
Royal Navy
Royal Navy
The Royal Navy is the naval warfare service branch of the British Armed Forces. Founded in the 16th century, it is the oldest service branch and is known as the Senior Service...
and the combined fleets of the
French Navy
French Navy
The French Navy, officially the Marine nationale and often called La Royale is the maritime arm of the French military. It includes a full range of fighting vessels, from patrol boats to a nuclear powered aircraft carrier and 10 nuclear-powered submarines, four of which are capable of launching...
and
Spanish Navy
Spanish Navy
The Spanish Navy is the maritime branch of the Spanish Armed Forces, one of the oldest active naval forces in the world. The Armada is responsible for notable achievements in world history such as the discovery of Americas, the first world circumnavigation, and the discovery of a maritime path...
, during the War of the Third Coalition (August–December 1805) of the
Napoleonic Wars
Napoleonic Wars
The Napoleonic Wars were a series of wars declared against Napoleon's French Empire by opposing coalitions that ran from 1803 to 1815. As a continuation of the wars sparked by the French Revolution of 1789, they revolutionised European armies and played out on an unprecedented scale, mainly due to...
(1803–1815).
The battle was the most decisive British naval victory of the war. Twenty-seven British
ships of the line
Ship of the line
A ship of the line was a type of naval warship constructed from the 17th through the mid-19th century to take part in the naval tactic known as the line of battle, in which two columns of opposing warships would manoeuvre to bring the greatest weight of broadside guns to bear...
led by
Admiral Lord Nelson
Horatio Nelson, 1st Viscount Nelson
Horatio Nelson, 1st Viscount Nelson, 1st Duke of Bronté, KB was a flag officer famous for his service in the Royal Navy, particularly during the Napoleonic Wars. He was noted for his inspirational leadership and superb grasp of strategy and unconventional tactics, which resulted in a number of...
aboard defeated thirty-three French and Spanish ships of the line under French Admiral
Pierre-Charles Villeneuve
Pierre-Charles Villeneuve
Pierre-Charles-Jean-Baptiste-Silvestre de Villeneuve was a French naval officer during the Napoleonic Wars. He was in command of the French and Spanish fleets defeated by Nelson at the Battle of Trafalgar....
off the south-west coast of Spain, just west of
Cape Trafalgar
Cape Trafalgar
Cape Trafalgar is a headland in the Province of Cádiz in the south-west of Spain. It lies on the shore of the Atlantic Ocean, northwest of the Strait of Gibraltar...
.