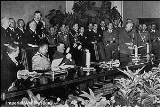 Axis Powers
The Axis powers also known as the Axis alliance, Axis nations, Axis countries, or just the Axis, was an alignment of
great power
Great power
A great power is a nation or state that has the ability to exert its influence on a global scale. Great powers characteristically possess military and economic strength and diplomatic and cultural influence which may cause small powers to consider the opinions of great powers before taking actions...
s during the mid-20th century that fought World War II against the
Allies
Allies of World War II
The Allies of World War II were the countries that opposed the Axis powers during the Second World War . Former Axis states contributing to the Allied victory are not considered Allied states...
. It began in 1936 with treaties of friendship between
Germany
Nazi Germany
Nazi Germany , also known as the Third Reich , but officially called German Reich from 1933 to 1943 and Greater German Reich from 26 June 1943 onward, is the name commonly used to refer to the state of Germany from 1933 to 1945, when it was a totalitarian dictatorship ruled by...
and
Italy
Kingdom of Italy (1861–1946)
The Kingdom of Italy was a state forged in 1861 by the unification of Italy under the influence of the Kingdom of Sardinia, which was its legal predecessor state...
and between Germany and
Japan
Empire of Japan
The Empire of Japan is the name of the state of Japan that existed from the Meiji Restoration on 3 January 1868 to the enactment of the post-World War II Constitution of...
. The "Rome-Berlin Axis" became a full military alliance in 1939 under the
Pact of Steel
Pact of Steel
The Pact of Steel , known formally as the Pact of Friendship and Alliance between Germany and Italy, was an agreement between Fascist Italy and Nazi Germany signed on May 22, 1939, by the foreign ministers of each country and witnessed by Count Galeazzo Ciano for Italy and Joachim von Ribbentrop...
, and the
Tripartite Pact
Tripartite Pact
The Tripartite Pact, also the Three-Power Pact, Axis Pact, Three-way Pact or Tripartite Treaty was a pact signed in Berlin, Germany on September 27, 1940, which established the Axis Powers of World War II...
of 1940 fully integrated the military aims of Germany, Italy, and Japan.