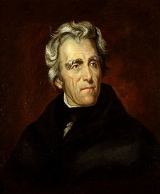 Andrew Jackson
Andrew Jackson
was the
seventh
President of the United States
President of the United States
The President of the United States of America is the head of state and head of government of the United States. The president leads the executive branch of the federal government and is the commander-in-chief of the United States Armed Forces....
(1829–1837). Based in frontier Tennessee, Jackson was a politician and army general who defeated the Creek Indians at the Battle of Horseshoe Bend (1814), and the British at the
Battle of New Orleans
Battle of New Orleans
The Battle of New Orleans took place on January 8, 1815 and was the final major battle of the War of 1812. American forces, commanded by Major General Andrew Jackson, defeated an invading British Army intent on seizing New Orleans and the vast territory the United States had acquired with the...
(1815). A polarizing figure who dominated the
Second Party System
Second Party System
The Second Party System is a term of periodization used by historians and political scientists to name the political party system existing in the United States from about 1828 to 1854...
in the 1820s and 1830s, as president he destroyed the national bank and relocated most Indian tribes from the Southeast to west of the Mississippi River.
The individual who refuses to defend his rights when called by his Government, deserves to be a slave, and must be punished as an enemy of his country and friend to her foe.

"Proclamation to the people of Louisiana" from Mobile (1814-09-21)
The brave man inattentive to his duty, is worth little more to his country, than the coward who deserts her in the hour of danger.

To troops who had abandoned their lines during the Battle of New Orleans|Battle of New Orleans (1815-01-08)
The decision of the Supreme court has fell still born, and they find that it cannot coerce Georgia to yield to its mandate.

Letter (7 April 1832) on the ruling in Worcester v. Georgia
The bank, Mr. Van Buren, is trying to kill me, but I will kill it.

Said to Martin Van Buren (1832-07-08) and quoted in The Autobiography of Martin Van Buren, published in Annual Report of the American Historical Association for the Year 1918, vol. II (1920), ed. John Clement Fitzpatrick, ch. XLIII (p. 625)