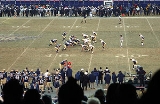 American football
American football
is a
sport
Team sport
A team sport includes any sport which involves players working together towards a shared objective. A team sport is an activity in which a group of individuals, on the same team, work together to accomplish an ultimate goal which is usually to win. This can be done in a number of ways such as...
played between two teams of eleven with the objective of scoring points by advancing the ball into the opposing team's
end zone
End zone
In gridiron-based codes of football, the end zone refers to the scoring area on the field. It is the area between the end line and goal line bounded by the sidelines. There are two end zones, each being on an opposite side of the field...
. Known in the United States simply as
football
, it may also be referred to informally as
gridiron football
. The ball can be advanced by
running
Running back
A running back is a gridiron football position, who is typically lined up in the offensive backfield. The primary roles of a running back are to receive handoffs from the quarterback for a rushing play, to catch passes from out of the backfield, and to block.There are usually one or two running...
with it or throwing it to a teammate. Points can be scored by
carrying the ball over the opponent's goal line
Touchdown
A touchdown is a means of scoring in American and Canadian football. Whether running, passing, returning a kickoff or punt, or recovering a turnover, a team scores a touchdown by advancing the ball into the opponent's end zone.-Description:...
, catching a pass thrown over that goal line,
kicking
Placekicker
Placekicker, or simply kicker , is the title of the player in American and Canadian football who is responsible for the kicking duties of field goals, extra points...
the ball through the opponent's goal posts or tackling an opposing ball carrier in his own end zone.
In the United States, the major forms are
high school football
High school football
High school football, in North America, refers to the game of football as it is played in the United States and Canada. It ranks among the most popular interscholastic sports in both of these nations....
,
college football
College football
College football refers to American football played by teams of student athletes fielded by American universities, colleges, and military academies, or Canadian football played by teams of student athletes fielded by Canadian universities...
and professional football.