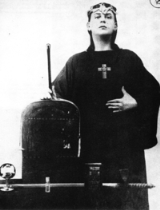 Aleister Crowley
Aleister Crowley
(ˈ; 1875–1947), born
Edward Alexander Crowley
, and also known as both
Frater Perdurabo
and
The Great Beast
, was an influential English
occult
Occult
The word occult comes from the Latin word occultus , referring to "knowledge of the hidden". In the medical sense it is used to refer to a structure or process that is hidden, e.g...
ist,
astrologer
Astrology
Astrology consists of a number of belief systems which hold that there is a relationship between astronomical phenomena and events in the human world...
,
mystic
Mysticism
Mysticism is the knowledge of, and especially the personal experience of, states of consciousness, i.e. levels of being, beyond normal human perception, including experience and even communion with a supreme being.-Classical origins:...
and
ceremonial magic
Ceremonial magic
Ceremonial magic, also referred to as high magic and as learned magic, is a broad term used in the context of Hermeticism or Western esotericism to encompass a wide variety of long, elaborate, and complex rituals of magic. It is named as such because the works included are characterized by...
ian, responsible for founding the religious philosophy of
Thelema
Thelema
Thelema is a religious philosophy that was established, defined and developed by the early 20th century British writer and ceremonial magician, Aleister Crowley. He believed himself to be the prophet of a new age, the Æon of Horus, based upon a religious experience that he had in Egypt in 1904...
. He was also successful in various other fields, including
mountaineering
Mountaineering
Mountaineering or mountain climbing is the sport, hobby or profession of hiking, skiing, and climbing mountains. While mountaineering began as attempts to reach the highest point of unclimbed mountains it has branched into specialisations that address different aspects of the mountain and consists...
,
chess
Chess
Chess is a two-player board game played on a chessboard, a square-checkered board with 64 squares arranged in an eight-by-eight grid. It is one of the world's most popular games, played by millions of people worldwide at home, in clubs, online, by correspondence, and in tournaments.Each player...
and
poetry
Poetry
Poetry is a form of literary art in which language is used for its aesthetic and evocative qualities in addition to, or in lieu of, its apparent meaning...
. In his role as the founder of the Thelemite philosophy, he came to see himself as the prophet who was entrusted with informing humanity that it was entering the new Aeon of Horus in the early twentieth century.
Born into a wealthy upper class family, as a young man he became an influential member of the esoteric
Hermetic Order of the Golden Dawn
Hermetic Order of the Golden Dawn
The Hermetic Order of the Golden Dawn was a magical order active in Great Britain during the late 19th and early 20th centuries, which practiced theurgy and spiritual development...
after befriending the order's leader,
Samuel Liddell MacGregor Mathers
Samuel Liddell MacGregor Mathers
Samuel Liddell MacGregor Mathers , born Samuel Liddell Mathers, was one of the most influential figures in modern Occultism...
.
I was in the death struggle with self: God and Satan fought for my soul those three long hours. God conquered — now I have only one doubt left — which of the twain was God?

Akeldama|Aceldama : A Place To Bury Strangers In (1898) Preface
I am inclined to agree with the Head Master of Eton that pæderastic passions among schoolboys 'do no harm'; further, I think them the only redeeming feature of sexual life at public schools.

"Energized Enthusiasm : A Note On Theurgy" in The Equinox Vol. 1 no. 9 (Spring 1913)
Sit still. Stop thinking. Shut up. Get out! The first two of these instructions comprise the whole of the technique of Yoga. The last two are of a sublimity which it would be improper to expound in this present elementary stage.

Eight Lectures On Yoga (1939) Ch. 4
Every man and every woman is a star.

I:3
These are fools that men adore; both their Gods & their men are fools.

I:11
I am above you and in you. My ecstasy is in yours. My joy is to see your joy.

I:13