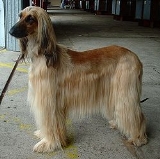 Afghan Hound
The
Afghan Hound
is one of the oldest
sighthound
Sighthound
Sighthounds, also called gazehounds, are hounds that primarily hunt by speed and sight, instead of by scent and endurance as scent hounds do.-Appearance:...
dog breed
Dog breed
Dog breeds are groups of closely related and visibly similar domestic dogs, which are all of the subspecies Canis lupus familiaris, having characteristic traits that are selected and maintained by humans, bred from a known foundation stock....
s. Distinguished by its thick, fine, silky coat and its tail with a ring curl at the end, the breed acquired its unique features in the cold mountains of
Afghanistan
Afghanistan
Afghanistan , officially the Islamic Republic of Afghanistan, is a landlocked country located in the centre of Asia, forming South Asia, Central Asia and the Middle East. With a population of about 29 million, it has an area of , making it the 42nd most populous and 41st largest nation in the world...
, where it was originally used to hunt
hare
Hare
Hares and jackrabbits are leporids belonging to the genus Lepus. Hares less than one year old are called leverets. Four species commonly known as types of hare are classified outside of Lepus: the hispid hare , and three species known as red rock hares .Hares are very fast-moving...
s and
gazelle
Gazelle
A gazelle is any of many antelope species in the genus Gazella, or formerly considered to belong to it. Six species are included in two genera, Eudorcas and Nanger, which were formerly considered subgenera...
s by
coursing
Coursing
Coursing is the pursuit of game or other animals by dogs—chiefly greyhounds and other sighthounds—catching their prey by speed, running by sight and not by scent. Coursing was a common hunting technique, practised by the nobility, the landed and wealthy, and commoners with sighthounds and lurchers...
them. Its local name is
Sag-e Tāzī
or
Tāžī Spai
. Other alternate names for this breed are
Kuchi Hound
,
Tāzī
,
Balkh Hound
,
Baluchi Hound
,
Barutzy Hound
,
Shalgar Hound
,
Kabul Hound
,
Galanday Hound
, or sometimes incorrectly
African Hound
.
The Afghan Hound is tall, standing in height 24-29 inches and weighing 45-60 pounds.