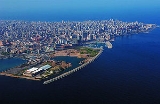 Beirut
Topics
Beirut
Timeline

Timeline
1759 An earthquake hits the Mediterranean destroying Beirut and Damascus and killing 30,000-40,000.
1941 World War II: Beirut is occupied by Free France and British troops.
1978 150 Palestinians in Beirut are killed in a terrorist attack during the second phase of the Lebanese Civil War.
1982 1982 Lebanon War begins: Forces under Israeli Defense Minister Ariel Sharon invade southern Lebanon in their "Operation Peace for the Galilee", eventually reaching as far north as the capital Beirut.
1982 Lebanese Civil War: a multinational force lands in Beirut to oversee the Palestine Liberation Organization's withdrawal from Lebanon.
1982 The international forces that were guaranteeing the safety of Palestinian refugees following Israel's 1982 Invasion of Lebanon leave Beirut. Five days later, several thousand refugees are massacred in the Sabra and Shatila refugee camps.
1983 A suicide bomber destroys the United States embassy in Beirut, Lebanon, killing 63 people.
1983 The Israeli cabinet votes to withdraw troops from Beirut but to remain in southern Lebanon.
1983 Lebanon Civil War: The U.S. Marines barracks in Beirut is hit by a truck bomb, killing 241 U.S. Marines. A French army barracks in Lebanon is also hit that same morning, killing 58 troops.
1984 US troops withdraw from Beirut. President Ronald Reagan had sent the troops as a peacekeeping force in August 1982.
1984 William Buckley, the CIA station chief in Beirut, Lebanon, is kidnapped by Islamic fundamentalists and later dies in captivity.
1984 A suicide bomber in a car attacks the U.S. embassy in Beirut, Lebanon, killing twenty-two people.
1985 A failed assassination attempt on Sayyed Mohammad Hussein Fadlallah in Beirut, Lebanon, kills at least 45 and injures 175 others.
1985 Associated Press newsman Terry Anderson is taken hostage in Beirut. He is released on December 4, 1991.
1985 Thirty-nine American hostages from the hijacked TWA Flight 847 are freed in Beirut after being held for 17 days.
1989 In West Beirut, a bomb explodes near the motorcade of Lebanese President Rene Moawad, killing him.
1991 Journalist Terry A. Anderson is released after 7 years in captivity as a hostage in Beirut. He was the last and longest-held American hostage in Lebanon.
2005 Lebanese self-made billionaire and business tycoon Rafik Hariri killed, along with 21 others, when explosives equivalent of around 1,000 kg of TNT were detonated as his motorcade drove near the St. George Hotel in Beirut.
2005 Lebanon's pro-Syrian prime minister, Omar Karami, resigns amid large anti-Syria street demonstrations in Beirut.
2005 Cedar Revolution, where hundreds of thousands of Lebanese went into the streets of Beirut to demonstrate against the Syrian military presence in Lebanon and against the government.
2006 Anti-Syrian Lebanese Minister and MP Pierre Gemayel is assassinated in suburban Beirut.