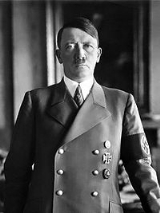 Adolf Hitler
Posts 1 - 3 of 3

beckahmay31
What are the reasons eastern europe proved to be an easy region for Hitler to conquer in 1939-1941?
replied to: beckahmay31

Shepie40
Replied to: What are the reasons eastern europe proved to be an easy...
Nazis came to power in the aftermath of the Great Depression. When the Nazis came to power the most pressing issue was an unemployment rate of close to 30%[15]. Before World War II, the Nazis placed non-Nazi professionals in charge of economic policy. Hitler appointed Hjalmar Schacht, a former member of the German Democratic Party, as Chairman of the Reichsbank in 1933 and Minister of Economics in 1934.
When we have a lot of unemployment we have thousands of people who are vulnerable to the promise of "change" and a better life.
The past politicians did not put a car in every garage nor a chicken in every pot.
Are we all stupid enough to believe that those who are "serving" us...(I use the term tounge-in-cheek)are really interested in improving our lives?
Personally I do not. I think those in the top positions are more interested in getting their names in the history books. They don't seem to listen to the common people...they want to push forward their own agenda even to the point of destroying our way of life.
replied to: beckahmay31

petermiller1952
Replied to: What are the reasons eastern europe proved to be an easy...
Prior to the attacks on Eastern Europe the Nazi's had built up a huge well equipped army and airforce. The Eastern Europeans had little of this and were also taken by surprise when the 'Blitz Krieg' began. There were mass bombing attacks followed by tanks and troups.

It was a similar situation when the Nazis' attacked into other parts of Europe including the events leading to Dunkirk.

Hitler and his cronies however, made their first big mistake by not completing their plans to invade Britain. They nearly bought the air defence system and airforce to it's knees and then completely messed it up. There followed a series of utterly 'delusion of grandeur' attacks. Wasting resources and worst attacking Russia in defiance of a peace pact with Stalin. The Russians hammered the Nazis and then they were joined by the revived British and Americans......