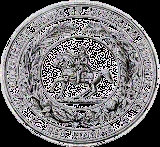 Confederate States Army
Posts 1 - 2 of 2

RobertHarvey
My Great Grandfather was ranked 4th Sgt.

I know present day rankings but what is a 4th Sgt?
replied to: RobertHarvey

captainkirk1946
Replied to: My Great Grandfather was ranked 4th Sgt. I know present...
A 4th Sgt. was usually found in an infantry company with approximately 80 to 90 privates and enlisted. The company was divided into two sections called the first and second division, each similar to a modern day platoon. The 1st div. commanded by 1st Lt. and 2nd division commanded by the 2nd Lt.
The company had one 1st Sgt. who was the ranking NCO for the company. The first Division and the Second Division each had four sgts. with three stripes as our modern day E5.
They were each in charge of 7 to 8 men, modern day squad, depending upon the strength of the company. There were also 1st, 2nd & 3rd cpls etcs.
I have also heard of 3rd Lt. or Ensign in the Confederate infantry but this was very early in the war.