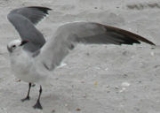 Wing
noun
(1) A movable organ for flying (one of a pair)
(2) An addition that extends a main building
(3)
A barrier that surrounds the wheels of a vehicle to block splashing water or mud
"In England they call a fender a wing"
(4) One of the horizontal airfoils on either side of the fuselage of an airplane
(5) A stage area out of sight of the audience
(6)
The wing of a fowl
"He preferred the drumsticks to the wings"
(7) A unit of military aircraft
(8)
The side of military or naval formation
"They attacked the enemy's right flank"
(9) A hockey player stationed in a forward position on either side
verb
(10)
Travel through the air; be airborne
"Man cannot fly"
Noun
Human arm.
Part of an airplane that produces the lift for rising into the air.
Part of a building, an extension from the main building
Part of a huge room.
A fraction of a political movement. Usually implies a position apart from the mainstream center position.
An organizational grouping in a military aviation service:

A unit of command consisting of two or more squadrons and itself being a sub-unit of a group or station.
A larger formation of two or more groups, which in turn control two or more squadrons.

A panel of a car which encloses the wheel area, especially the front wheels.
A position in several field games on either side of the field.
Related terms
Verb
To injure slightly (as with a gunshot), especially in the arm.
To fly.
wing it: To act or speak extemporaneously; to improvise.