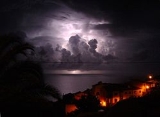 Weather
noun
(1)
The meteorological conditions: temperature and wind and clouds and precipitation
"They were hoping for good weather"
"Every day we have weather conditions and yesterday was no exception"
verb
(2)
Change under the action or influence of the weather
"A weathered old hut"
(3) Sail to the windward of
(4) Cause to slope
(5)
Face or endure with courage
"She braved the elements"
Etymology
, from , from . Cognate with Dutch , German , Old Norse (Danish , Swedish ) and with Russian .
Noun
The short term state of the atmosphere at a specific time and place, including the temperature, humidity, cloud cover, precipitation, wind, etc.
unpleasant or destructive atmospheric conditions, and its effects.

Wooden garden furniture must be well oiled as it is continuously exposed to weather.

The windward side of a ship.
A situation.
Verb
To pass to windward in a vessel, especially to beat 'round.