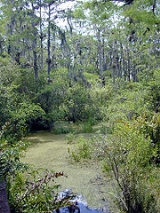 Swamp
noun
(1) Low land that is seasonally flooded; has more woody plants than a marsh and better drainage than a bog
(2)
A situation fraught with difficulties and imponderables
"He was trapped in a medical swamp"
verb
(3)
Fill quickly beyond capacity; as with a liquid
"The basement was inundated after the storm"
"The images flooded his mind"
(4)
Drench or submerge or be drenched or submerged
"The tsunami swamped every boat in the harbor"
Noun
Verb
To drench or fill with water.

The boat was swamped in the storm.

To overwhelm; to make too busy or overrun capacity.

I have been swamped with paperwork ever since they started using the new system.

2006: New York Times,

Mr. Spitzer's defeat of his Democratic opponent ... ended a primary season in which Hillary Rodham Clinton swamped an antiwar challenger for renomination to the Senate.