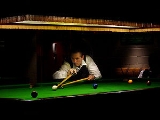 Snooker
noun
(1) A form of pool played with 15 red balls and six balls of other colors and a cue ball
verb
(2) Leave one's opponent unable to take a direct shot
(3)
Fool or dupe
"He was snookered by the con-man's smooth talk"
Noun
A cue sport, popular in the UK and other Commonwealth countries.
Verb
To play snooker.
To fool or bamboozle.
To place the cue ball in such a position that the opponent cannot directly hit his/her required ball with it.
To become or cause to become inebriated.