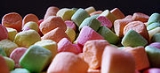 Marshmallow
noun
(1) Spongy confection made of gelatin and sugar and corn syrup and dusted with powdered sugar
Etymology
, corresponding to
marsh
+
mallow
. The sense of confection is from 1884.
Noun
A species of mallow, Althaea officinalis, that grows in marshy terrain.
A type of confectionery consisting of sugar or corn syrup, beaten egg whites, gelatin that has been pre-softened in water, gum arabic and flavorings, whipped to a spongy consistency.

Love, Life and Work:

The Disagreeable Girl is a female of the genus homo persuasion, built around a digestive apparatus that possesses marked marshmallow proclivities.

PH Wodehouse, A Wodehouse Miscellany:

It was an apple marshmallow sundae, I recollect. I dug my spoon into it with an assumption of gaiety which I was far from feeling.