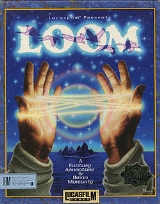 Loom
noun
(1) A textile machine for weaving yarn into a textile
verb
(2)
Appear very large or occupy a commanding position
"The huge sculpture predominates over the fountain"
"Large shadows loomed on the canyon wall"
(3)
Come into view indistinctly, often threateningly
"Another air plane loomed into the sky"
(4)
Hang over, as of something threatening, dark, or menacing
"The terrible vision brooded over her all day long"
Etymology 1
< < + , of unknown origin, akin to Middle Dutch
Noun
A frame or machine of wood or other material, in which a weaver forms cloth out of thread; a machine for interweaving yarn or threads into a fabric, as in knitting or lace making.
Verb
To impend; to threaten or hang over.

The clouds loomed over the mountains.