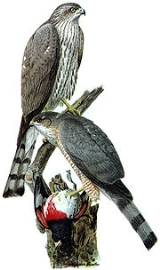 Hawk
noun
(1) Diurnal bird of prey typically having short rounded wings and a long tail
(2) A square board with a handle underneath; used by masons to hold or carry mortar
(3) An advocate of an aggressive policy on foreign relations
verb
(4)
Clear mucus or food from one's throat
"He cleared his throat before he started to speak"
(5)
Hunt with hawks
"The tribes like to hawk in the desert"
(6) Sell or offer for sale from place to place
English
Etymology 1
From , from , ultimately from .
Noun
A diurnal predatory bird of the family Accipitridae.

It is illegal to hunt hawks or other raptors in many parts of the world.

An advocate of aggressive political positions.

The hawks controlled the senate, so the Minister of War had few problems with his budget.
Noun
Verb
To sell.

The vendors were hawking their wares from little tables lining either side of the market square.
Verb
To forcibly attempt to cough up (phlegm).

Jim hawked up some spit and spat it on the sidewalk.

To clear the throat loudly.

Grandpa sat on the front porch, hawking and wheezing, as he packed his pipe with cheap tobacco.