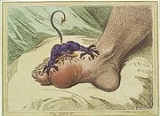 Gout
noun
(1) A painful inflammation of the big toe and foot caused by defects in uric acid metabolism resulting in deposits of the acid and its salts in the blood and joints
Noun
An extremely painful inflammation of joints, especially of the big toe, caused by a metabolic defect resulting in the accumulation of uric acid in the blood and the deposition of urates around the joints.
a spurt or splotch (usually followed by the preposition of)

1981, P.D. James, Children of Men, chapter 20, page 137:

"...small chunks of rubble and gouts of soot had fallen from the chimney, and were ground into the rug under his unwary feet."

"Another blow sent gouts of blood flying, along with gobbets of flesh."