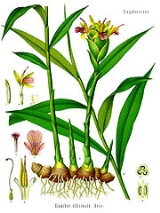 Ginger
adjective
(1)
(used especially of hair or fur) having a bright orange-brown color
"A man with gingery hair and bright blue eyes"
"A ginger kitten"
noun
(2)
Liveliness and energy
"This tonic is guaranteed to give you more pep"
(3) Pungent rhizome of the common ginger plant; used fresh as a seasoning especially in Oriental cookery
(4) Dried ground gingerroot
(5) Perennial plants having thick branching aromatic rhizomes and leafy reedlike stems
verb
(6)
Add ginger to in order to add flavor
"Ginger the soup"
Etymology
Late , from , earlier , from , from Prakrit , from , from Malayalam ഇഞ്ചി (inchi), from இஞ்ஜி (inji) (directly).
Noun
Any plant of a genus (Zingiber, especially Zingiber officinale) of tropical Asiatic and Polynesian herbs of a family (Zingiberaceae, the ginger family) with pungent aromatic rhizomes used as a condiment and as a stimulant and acarminative.
The rhizome of this plant used as a spice either as it is or in dried powdered form.
(colour) A reddish-brown colour/color.

A person with reddish-brown hair.
Adjective
(used to describe hair) Of a reddish-brown colour.
flavoured with ginger.
Queer (ie, homosexual) (short for ginger beer, rhyming with queer).
See also